LHC larger bench to hear plea seeking Punjab Governor's removal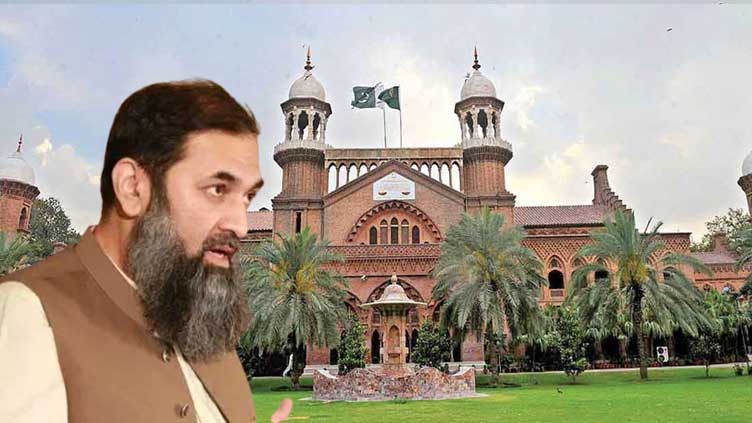 Pakistan
LHC larger bench to hear plea seeking Punjab Governor's removal
LAHORE (Dunya News) – The Lahore High Court (LHC) on Saturday formed a larger bench on plea seeking to remove Governor Punjab Baligh-ur-Rehman from his position.
The larger bench will comprise of Justice Chaudhry Iqbal, Justice Muzzamil Akhtar Shabbir, Justice Tariq Saleem Sheikh and Justice Asim Hafeez will be headed by Justice Abid Aziz Shaeikh.
The petition was filed by Advocate Shabbir Ismail on behalf of Azhar Siddique advocate.
The plea stated that a letter was written to President Dr Arif Alvi and Prime Minister Shehbaz Sharif demanding removal of Baligh-ur-Rehman as Punjab Governor.
It has been requested in the petition that a letter was written to President Dr. Arif Alvi and Prime Minister Shehbaz Sharif to remove the Punjab Governor but both the heads did not respond to the letter. The plea also stated that the Punjab governor cannot ask for a vote of confidence without any reason.
It is further requested in the petition that 4 to 7 days are required for the vote of confidence, adding that the governor cannot ask for a vote in the ongoing session, but no action has been taken against him.
A larger bench will hear the petition on January 16.
Governor Punjab de-notifies CM Pervaiz Elahi
In December last year, the constitutional crisis had deepened further in Punjab as Governor Baligh-ur-Rehman de-notified Chief Minister Pervaiz Elahi. It had been said in the notification that it is believed that the Chief Minister does not have the confidence of the majority of the members of the assembly.
The notification further stated that the Punjab cabinet has been dissolved. According to the notification, Pervaiz Elahi will continue to hold office until the election of the new leader of the House.
The notification read: "Consequent to the facts that Ch. Pervaiz Elahi, Chief Minister Punjab refrained from obtaining vote of confidence at 1600 hrs yesterday, in line with an Order under Article 130(7) of the Constitution of the Islamic Republic of Pakistan issued under my hand on 19t December 2022, in line with Rule 22(7) of the Rules of Procedure of the Provincial Assembly of the Punjab, 1997, and that he still has not done so even after the lapse of another twenty four hours, I am satisfied that he does not command the confidence of the majority of the members of the Punjab Assembly, and therefore ceases to hold his office with immediate effect."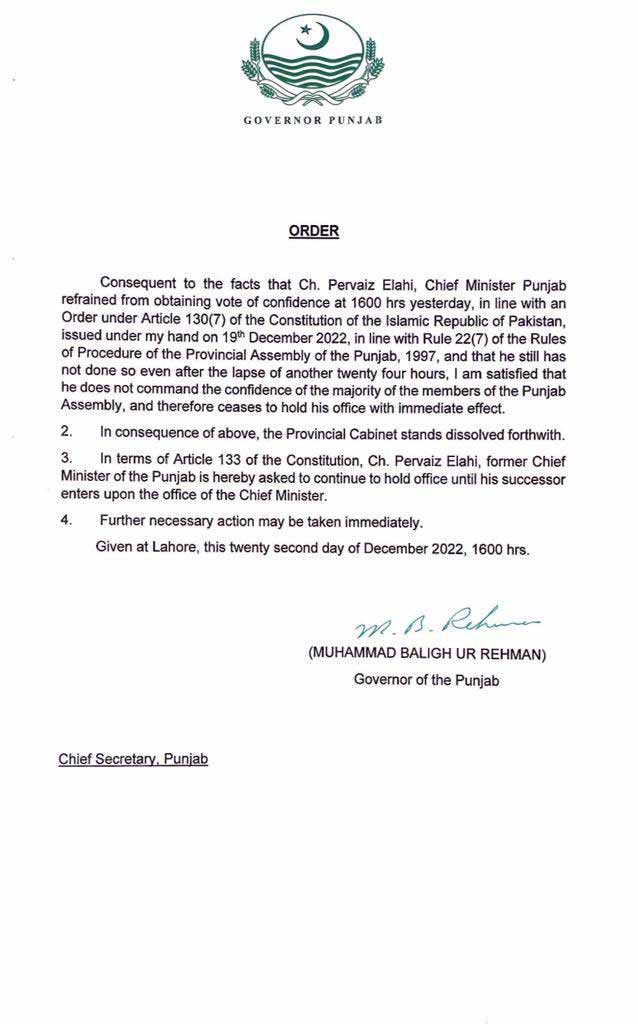 Reacting to the Baligh-ur-Rehman's tweet, Pakistan Tehreek-e-Insaf (PTI) leader and former federal minister Fawad Chaudhry said that the Punjab Governor's notification of de-notification to the Chief Minister has no legal status.
He said that Pervaiz Elahi and the provincial cabinet will continue to perform their duties.
The PTI leader went on to say that a reference will be sent to the president against the Governor and the action to remove him from office has been initiated.
— Ch Fawad Hussain (@fawadchaudhry) December 22, 2022