Punjab, KP assemblies dissolution expected tomorrow, says Fawad Chaudhry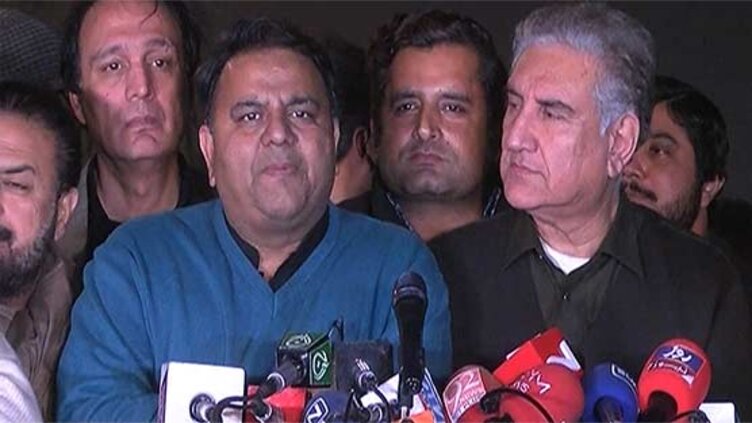 Pakistan
PTI focused at state's interest instead of politics to get nation out of quagmire, Qureshi
LAHORE (Dunya News) - Pakistan Tehreek-e-Insaf (PTI) leader and former federal minister Fawad Chaudhry on Wednesday said that the dissolution of the Punjab and Khyber Pakhtunkhwa assemblies is expected to take place tomorrow while barring any legal obstacles.
He said that the Punjab Chief Minister got the required 186 votes. Criticising PML-N leaders for boycotting assembly proceedings, he said they should had participated in the vote of confidence proceedings but they chose to flee.
PTI's Vice Chairman Shah Mehmood Qureshi speaking at the moment said that they would get rid of the imported government, Dunya News reported.
Addressing media in Lahore, Qureshi said the inflation had exceeded while unemployment was also at the peak. He said that they fought on every forum including legal forums as well.
Qureshi said that Punjab CM Chaudhry Pervez Elahi had once again secured the vote of confidence as the people of Pakistan had rejected the coalition of 13 parties. He said that all claims of opposition in Punjab had been proven wrong.
The former foreign minister also said that Pakistan Democratic Movement's (PDM)-led government was a failure and only the fresh elections were solution to the country's problems.
He said that Imran Khan s narrative remained successful once again and the only way forward was free and fair elections. He further said that the opposition had boycotted the assembly proceedings at their will otherwise they could stay in and observe voting process.
Qureshi replying to a question added that the court had rejected stance taken by the Punjab Governor. He said that PTI was focused at interests of the state instead of politics to get the nation out of the quagmire.