Situation fit for Governor Rule after unconstitutional step: Rana Sanaullah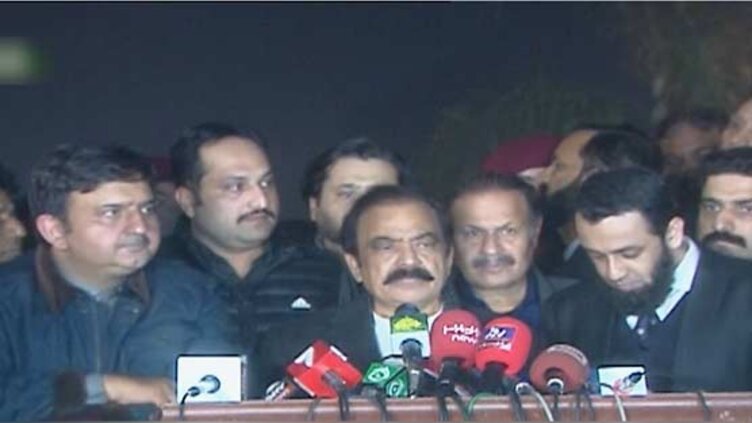 Pakistan
Speaker crossed extremes of partisanship, poling agents not appointed , PML-N leaders
LAHORE (Dunya News) - Interior Minister Rana Sanaullah has said that it was fit situation for Governor Rule in the province.
He said that the proceedings were extended for 7 to 8 hours while the second agenda was issued after 12 o clock in the night. He said that the action was against the rules and constitution
Addressing media outside Punjab Assembly with Malik Ahmad Khan, Ataullah Tarar and other members of the opposition parties the Interior Minister said that lies were told in assmbly proceedings.
Interior Minister said that the Speaker Punjab Assembly had said after consulting his lawyers that the Governor s order was unconstitutional and had rejected conducting the vote of confidence. He said that a new agenda was issued in which it was told about the vote of confidence.
Rana Sanaullah said that they had opted a different point of view in the court and have changed that in the assembly and the process of bogus counting was started. He claimed that the number game of the ruling coalition was incomplete.
He added that Pervez Elahi had given an oath to the disgruntled members that he will not dissolve the assembly. He said that PML-N and PPP were falsely blamed for horse trading. He said that matter was being heard in the court. He said that they the proceedings was initiated fraudulently and they will not accept that.
He said that despite efforts of 10-12 hours they could not complete their numbers and now the process of fraudulent counting will be started.
Ata Tarar said that violation of rules was done. He blamed the Speaker had crossed to the extremes of partisanship. He said that they will take the matter to court.
Malik Ahmad Khan at the moment said that rules had been bulldozed regarding the vote of confidence. He said that this was the worst incident in Punjab Assembly's history.
Malik Ahmad said that poling agents were not appointed as per requirement. He said that a CM will remain imposed who has lost majority.
Opposition has boycotted the proceedings of session.