Fawad claims five PTI MPAs offered Rs1.2bn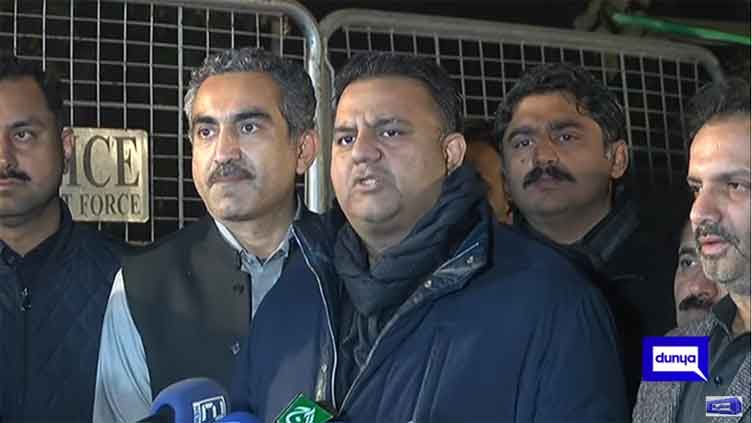 Pakistan
Fawad claims 5 PTI MPAs offered Rs1.2bn
LAHORE (Dunya News) – Pakistan Tehreek-e-Insaf (PTI) senior leader Fawad Chaudhry claimed on Tuesday that five MPAs from his party were offered Rs1.2 billion to change loyalties ahead of Punjab Chief Minister Parvez Elahi's vote of confidence.
Speaking to media to address his reservations, the former federal minister claimed, "The five lawmakers from Muzaffargarh had received phone calls from unnamed numbers, and they [MPAs] were offered bribes."
Alleging the offer was given by the Pakistan Democratic Movement (PDM), Mr Chaudhry demanded an inquiry into the phone calls and the bribery offer.
Talking about the PTI's relations with the state institutions, Mr Chaudhry said, "The allegations being hurled at the state institutions. We don't want any sort of tussle with the institutions, and we are interested in the working relationship with them [institution]."
Speaking on the Election Commission of Pakistan (ECP), Mr Chaudhry said, "There is no value of the warrants legally." We will move court for action against the ECP on contempt of court."
Continuing to take a dig at the electoral watchdog, Mr Chaudhry said, "The ECP is fulfilling all other tasks, with the exception of holding elections." Mr Chaudhry also urged the ECP to work as per the constitution and law.
Expressing his thoughts over the dissolution of the assemblies, Mr Chaudhry said, "By dissolving the Punjab and KP assemblies, we want to move forward."
Believing that the country was currently under the situation of the martial-law partially, Mr Chaudhry said. "Today our numbers in PA exceed over 188."
Recalling the demand for the elections, Mr Chaudhry said that only polls could bring stability to the country. "But sadly, efforts are being made to delay elections," added Mr Chaudhry.