Nefarious designs of terrorists won't materialise: Rana Sanaullah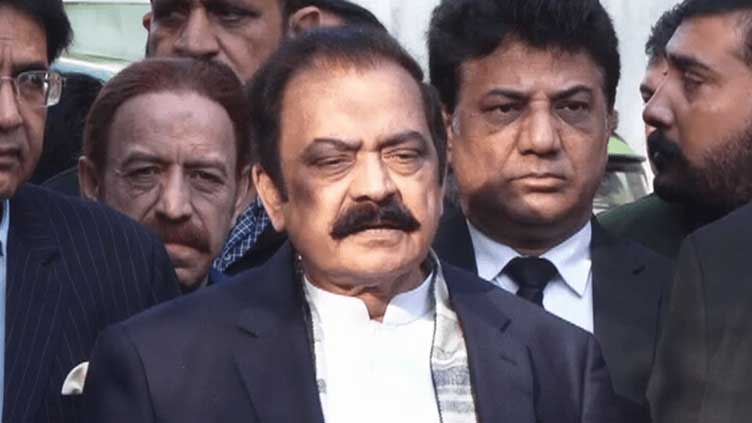 Pakistan
Villainous designs of terrorists won't materialise, says Rana Sanaullah
ISLAMABAD (Dunya News) – Minister for Interior Rana Sanaullah said on Thursday the terrorists would not be allowed to succeed in their nefarious designs.
He said this during his visit to the PIMS hospital where he inquired after policeman Muhammad Hanif who was wounded in Islamabad s I-10 explosion. The minister also presented a bouquet and cheque to the wounded police official.
Speaking on the occasion, Rana Sanaullah appreciated the policeman for performing his professional duty and said the mental and professional skills of the policemen saved Islamabad from a major accident. He further said martyr Adeel Hussain would be given a bravery medal and support would be given to the injured personnel.
The minister said terrorists would not be allowed to succeed in their nefarious designs, adding that the cowardly attacks would not demoralise the security forces.
Suspects involved in Islamabad blast 'arrested'

On Tuesday, Sanaullah said that the law enforcement agencies (LEAs) had arrested suspects involved in last week's suicide bombing in Islamabad.
He said the cab driver purported to be involved in the attack was innocent, adding the driver had not been hired by the accused. The terrorists arrived in Rawalpindi from Kurram agency. The law-enforcement agencies have detained handlers and rounded up at least five others.
"The banned Tehreek-e-Taliban Pakistan (TTP) accepted the responsibility for the attack," the minister said, which claimed the life of a policeman and wounded several others.
Read More: Policeman martyred, several injured in Islamabad suicide blast
He said the "taxi driver is innocent", and he was not involved in the attack as the suspects had taken the cab on rent from him. The suspects, according to Sanaullah, travelled from Kurram Agency to Rawalpindi.
Earlier, policeman was martyred and two suspected terrorists were killed in a suicide blast in the I-10 sector of the federal capital on Friday, confirmed Interior Minister Rana Sanaullah.
The minister, in a statement, said a man and a woman were in a vehicle which entered Islamabad from Rawalpindi on Friday morning. A team of the Eagle Squad stopped it for snap checking when the two suspects blew up the car which was laden with explosive material. He said the terrorists aimed at hiting some "high-value targets" in the capital city.
Mr Sanaullah said six people, including four policemen, were injured in the incident, adding that the injured personnel were out of danger and being treated at the Pakistan Institute of Medical Sciences (PIMS).