Impenetrable fog descends on Punjab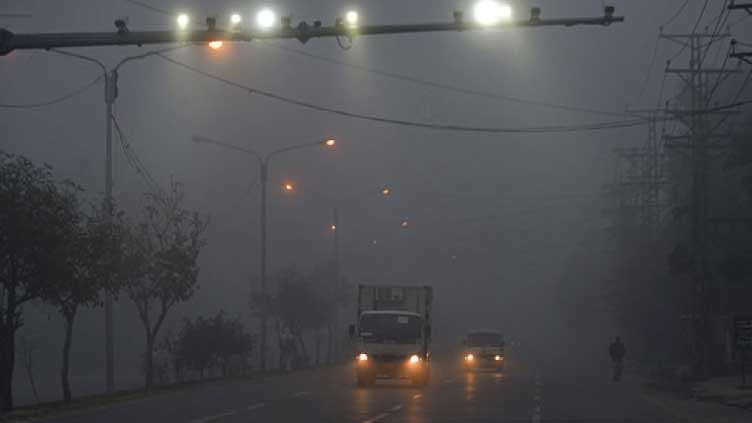 Pakistan
Impenetrable fog descends on Punjab, reduces visibility to zero
LAHORE (Dunya News) – As temperatures drop, a thick layer of fog descended on the province dropping the visibility to zero in various cities and hitting the entire travel network -- air traffic, railways, highways and motorways.
The dense fog has enveloped vast swathes of Punjab, reducing the visibility to zero. Fog continued to grip Punjab's plain areas including Lahore. The flight operation at the Allama Iqbal International Airport, Lahore was disrupted as the visibility was very low and several incoming or outgoing flights were either delayed or cancelled.
The thick fog has badly affected the flow of road traffic in several cities of Punjab. According to a motorway spokesman, various sections of the motorway have been closed as visibility is very poor. The motorway police also have advised the drivers to switch on foglights while driving at very slow speed as the visibility was dropped to zero due to dense fog. They have requested the people to stay home and avoid unnecessary travelling.
CTO Asad Malhi has issued instructions to the citizens and said most areas of the city were covered by heavy fog and people should be extra vigilant and call 15 in case of any emergency. He said that due to the closure of motorway, additional traffic wardens had been deputed at the entry and exit routes. The CTO further said that the number of wardens had been increased at Babu Sabu, Thokar Niaz Baig, Shahdara Chowk, Old Ravi Bridge. He said flasher lights of all police vehicles should be kept on and the citizens should ensure that foglights and mirrors were not wet.