Bilawal says BJP leader announces bounty on his head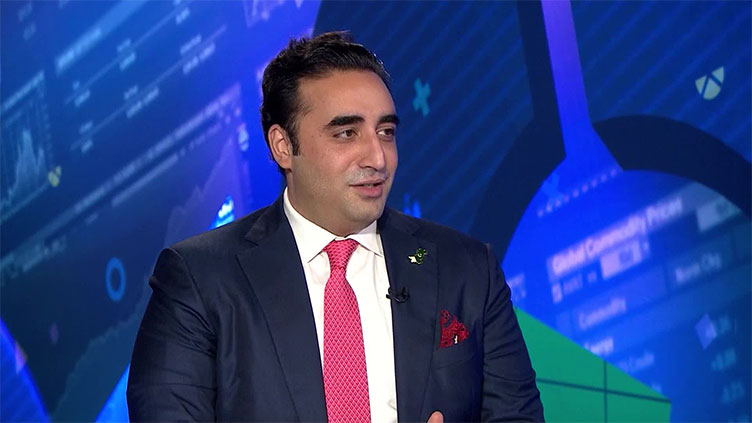 Pakistan
Bilawal says bounty announced on him in India for remarks against Modi
WASHINGTON (Dunya News) - Foreign Minister Bilawal Bhutto-Zardari said a leader of India's ruling Bhartiya Janta Party (BJP) had announced 20 million Indian rupees head money for him after his remarks against Indian Prime Minister Narendra Modi.
In an interview with Bloomberg, the youngest foreign minister of the South Asian country defended his remarks against the Indian premier, saying it was a historical fact. He said he had not coined the term of "Butcher of Gujarat" but the title was given to Mr Modi by the Muslims of India after the Gujarat carnage.
Manupal Bansal, a local BJP leader in Uttar Pradesh, has announced hefty amount as reward to anyone beheading the Pakistani foreign minister. Last week, the BJP also held nationwide protests over Billawa Bhutto's remarks against Modi.
Replying to a question, Bilawal Bhutto said that in the current situation, early elections were not in the country s interest. He said Pakistan Tehreek-e-Insaf (PTI) chief Imran Khan was harming the country with unjustified protests. He said it s very unfortunate that Imran Khan talked about elections at a time when the country was passing through a very difficult period. He said the Muslims in India were being tortured by Narendra Modi's party and added that the Indian government was committing extreme atrocities in Gujarat. He said Modi's party BJP had announced a bounty on my head which proves that what I had said was right.
Replying to another question, Bilawal said unprecedented floods led to devastation in August and there was a huge responsibility of the international community to support Pakistan. He said unprecedented floods in the summer killed more than 1,700 people, inundated a third of the nation and cut the nation's growth by half. The floods had left about $32 billion in damages and losses to the nation's economy, he said.
Bilawal said that as per United Nations, the global community hasn't provided enough funds after the devastating floods in Pakistan and that may lead to the suspension of its food support programme next month. The UN and Pakistan's joint appeal garnered only about 30% of the $816 million funds requested, according to Julien Harneis, UN resident and humanitarian coordinator in Pakistan. They will seek more funds at a conference in Geneva, Switzerland, scheduled for Jan 9.