ECC okays export of 100,000 tonnes of sugar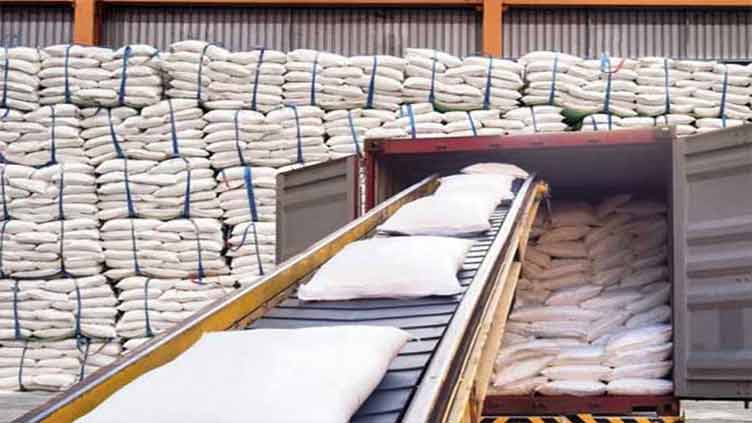 Pakistan
ECC okays export of 100,000 tonnes of sugar
ISLAMABAD (Dunya News) – The Economic Coordination Committee (ECC) session, chaired by Finance Minister Ishaq Dar on Thursday, okayed the export of 100,000 metric tonnes of sugar.
The ECC also approved the technical supplementary grant for the Ministry of Climate Change and the Ministry of Housing in its session. Earlier, the finance ministry while rejecting claims of having sugar in abundance barred the sugar mills form exporting sugar.
Sources privy to the matter said talks were held between sugar mill owners and the finance ministry, in which the ministry rejected the sugar mills' claims of an abundance of sugar and barred them from exporting sugar.
National Food Security Minister Tariq Bashir Cheema said the Sugar Mills Association did not inform the government about the overall stock situation, adding that there was a fear of 40 per cent reduction in the sugarcane production in Sindh.
The Pakistan Sugar Mills Association (PSMA) - the representative body of sugar mills owners - had been demanding that the Centre allow partial export of around 60pc of the sugar surplus from the last year 2021 and also warned of delaying the crushing season. However, the government, fearing a shortage, was resisting the demand.
PSMA (Central) Chairman Asim Ghani Usman said in a press conference "If, due to political considerations, the government desires to ensure some buffer stocks [to maintain sugar prices in local market], then 500,000 tons of the 1.2 million tons of the sugar may be retained, allowing export of the rest," He warned if the demand was not met, the 2022-23 crushing season would be started from mid-January, instead of Nov 30 as required under the law.
According to the PSMA claims, 1.2m to 1.3m tonnes of sugar was available with the millers, sufficient to meet the domestic demand till Jan 15, 2023. The export of 1m tonnes could fetch $1 billion, it claimed.
Mr Ghani said the export would help millers start the crushing season on time, pay good rates to the growers and provide livelihood to thousands linked with the industry.