Hina Rabbani Khar, Afghan FM hold political talks, bilateral issues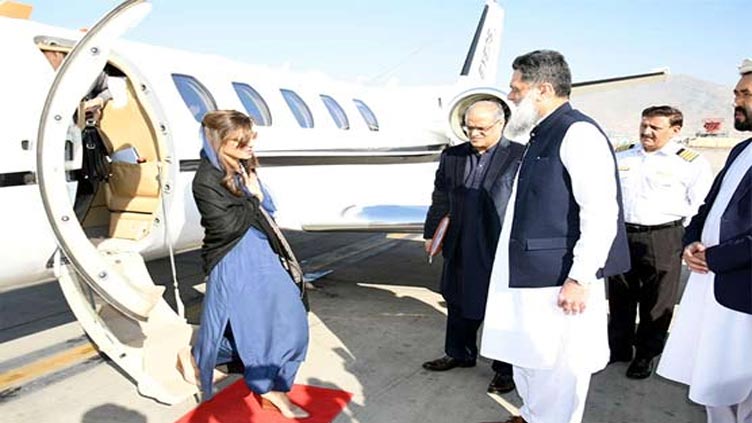 Pakistan
Earlier Ms Khar-led delegation lands in Kabul for political dialogue
KABUL (Dunya News) - Minister of State for Foreign Affairs Hina Rabbani Khar and Afghanistan's Foreign Minister Amir Khan Mutaqqi along with their respective delegations met in Kabul and discussed matters of bilateral importance.
The meeting focused on political consultations between the two governments. Special Assistant to Prime Minister on Afghanistan Ambassador Mohammad Sadiq was also present.
"A range of bilateral issues of common interest including cooperation in education, health, trade and investment, regional connectivity, people-to-people contacts, and socioeconomic projects," the Foreign Office said.
Earlier, a high-powered delegation led by Minister for State for Foreign Affair Hina Rabbani Khar landed in Kabul for a one-day visit on Tuesday.
The state minister, whom delegation also includes Special Assistant for Prime Minister for Afghanistan Sadiq Khan, will hold political dialogue with the Taliban-led Afghan interim government.
"Bilateral relations, including cooperation in the areas of education, trade and investment, regional connectivity, people-to-people contacts and matters related to regional security will be discussed," the Foreign Office spokesperson said in a press release.
Hina Rabbani Khar will also reaffirm Pakistan's continued commitment and support for all efforts aimed at strengthening peace and enhancing prosperity in Afghanistan.
"As a friend and neighbour of Afghanistan, Pakistan will reaffirm its abiding solidarity with the people of Afghanistan, in particular through its efforts to ease the humanitarian crisis in Afghanistan and to create real opportunities for economic prosperity of Afghan men, women and children," it was further added.
Ms Khar is the first world female leader who will be visiting Afghanistan. Earlier she visited Afghanistan as the state minister in 2022.