IHC fixes Imran's plea for hearing against Toshakhana disqualification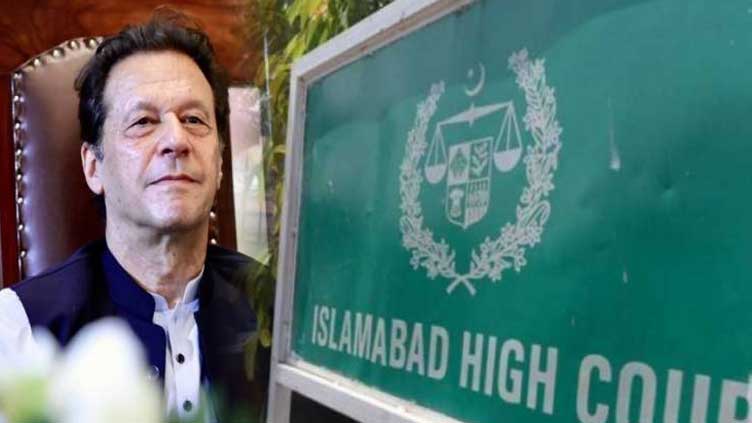 Pakistan
IHC fixes Imran's plea for hearing against Toshakhana disqualification
ISLAMABAD (Dunya News) – The Islamabad High Court (IHC) on Saturday fixed the Pakistan Tehreek-e-Insaf (PTI) supremo Imran Khan's petition for hearing against his disqualification by the Election Commission of Pakistan (ECP) in Toshakhana reference.

The IHC Justice Amir Farooq will hear the former premier's petition on Monday.

It is pertinent to mention that Imran Khan has moved IHC challenging the electoral watchdog's verdict to disqualify him in Toshakhana reference, while the registrar's office raised objections on plea after that Imran's legal team cleared all objections the registrar's office.

In the plea, the PTI chairman asked the IHC to declare verdict as illegal.
Earlier on Oct 24, the ECP issued a detailed verdict on Pakistan Tehreek-e-Insaf (PTI) chairman Imran Khan's disqualification in the Toshakhana case.
The ECP, in a detailed decision with a delay of 3 days, stated that Imran Khan deliberately submitted the wrong returns to the ECP, adding that the former PM did not disclose the gifts received in the returns.

"The bank's record of gifts presented by Imran Khan does not correspond to the value of the gifts," it added.
It further stated that the money received from the sale of gifts was not disclosed in the year 2018–19, and that Imran Khan hid facts in the returns of the financial years 2020–21 and violated sections 137, 167, and 173 of the Election Act.
The PTI chairman's disqualification was done under Sections 137 and 173 of the Election Act, it stated.
On the other hand, the ECP made a major mistake in the issued detailed verdict by mentioning the constituency of the former PM as NA- 5, although he was elected from Mianwali's constituency NA-95 .While from NA-5 the PTI leader Sahibzada Sibghatullah won the election.