President, PM, Imran Khan grieved over death of journalist Arshad Sharif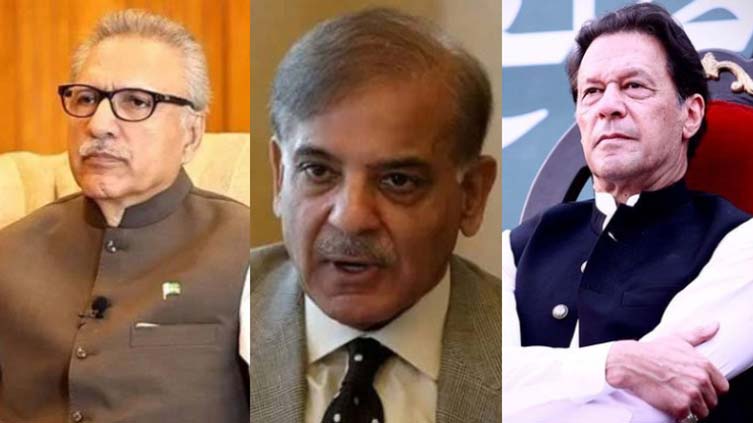 Pakistan
Senior anchorperson Sharif died in an accident in Kenya.
ISLAMABAD (Dunya News) - President Dr Arif Alvi, Prime Minister Shehbaz Sharif and Pakistan Tehreek-e-Insaf (PTI) Chairman) Imran Khan on Monday expressed profound shock and grief over the death of senior journalist Arshad Sharif.
The president termed the death of Arshad Sharif a "great loss to journalism and Pakistan".
He prayed that may the soul of Arshad Sharif rest in peace and may his family, which includes his followers, have the strength to bear this loss.
— Dr. Arif Alvi (@ArifAlvi) October 24, 2022
Prime Minister Shehbaz Sharif expressed deep grief over the death of Arshad Sharif.
"I am deeply saddened by the shocking news of journalist Arshad Sharif's tragic death," he said.
He extended condolences to the bereaved family of Arshad Sharif.
"May Allah SWT grant him a place in Heaven. My deep condolences and prayers for the bereaved family," he said.
— Shehbaz Sharif (@CMShehbaz) October 24, 2022
While the former Prime Minister Imran Khan also posted a picture of Arshad Sharif along with a dua after his tragic death.
In his series of tweets, Imran Khan said that he is shocked at the brutal murder of Arshad Sharif who "paid the ultimate price for speaking the truth".
He added, "He had to leave the country and be in hiding abroad but he continued to speak the truth on social media, exposing the powerful. Today the entire nation mourns his death."
Imran Khan further demanded proper judicial investigation to examine his own statements plus evidence that other sources have.
"We have descended into a state of brutality, unknown in civilised society, indulged in by the powerful against those who dare to criticise and expose wrongdoings," he said.
Imran Khan also extended his prayers and condolences to his grief stricken family.
— Imran Khan (@ImranKhanPTI) October 24, 2022

Foreign Minister Bilawal Bhutto Zardari has said the foreign office is in contact with the Kenyan authorities over Sharif's killing.
In a statement on Monday, he expressed deep grief and sorrow over the killing of Sharif saying it is an irreparable loss to the journalists' community of Pakistan.
Senior anchorperson Sharif was reportedly shot to death by Kenyan Police along the Nairobi-Magadi highway on Sunday in "mistaken identity case".
According to Kenyan media, the journalist was fatally shot in the head by cops after allegedly violating a roadblock established to keep an eye on motor vehicles using the route.
The media, while quoting local police officials, said that they were directed to intercept a car involved in a carjacking in Nairobi in which a child was taken hostage, which was similar to the one Arshad Sharif and his driver were driving.