Tosha Khana verdict: Imran Khan directs party workers to hold peaceful protests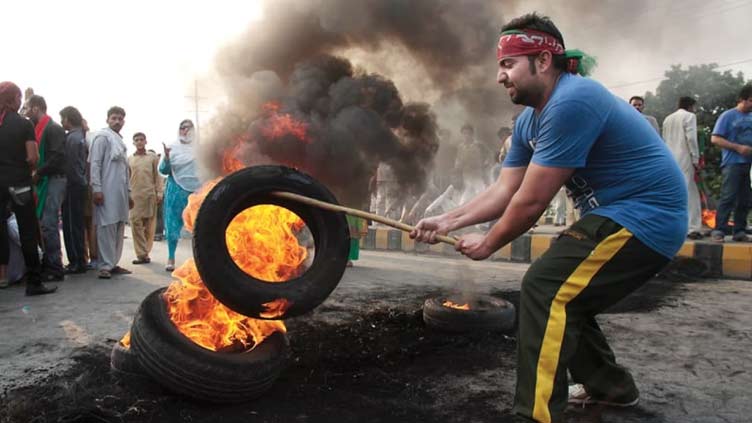 Pakistan
Tosha Khana verdict: Imran Khan directs party workers to hold peaceful protests
ISLAMABAD (Dunya News) – Former prime minister and Pakistan Tehreek-e-Insaf (PTI) chairman Imran Khan directed the party workers to hold peaceful protests after the Election Commission of Pakistan's (ECP) verdict in Tosha Khan reference.
It should be remembered that the ECP had disqualified Imran Khan in the Tosha Khana reference and declared his National Assembly seat vacant and at the same time ordered to initiate criminal proceedings against him after which protests are being held across the country.
On the other hand, sources privy to PTI said that an important meeting was held in Bani Gala under the chairmanship of the former prime minister. During the meeting, a briefing was also given on the decision of the ECP.
Sources further said that preparations for the long march have been reviewed in a consultative meeting of the senior leadership. It has been decided not to incite protests in the country during the meeting.
"The PTI chairman is also likely to address the nation later in the evening," sources added.
Earlier, the Pakistan Tehreek-e-Insaf (PTI) supporters poured onto streets across the country after the party's chairman and former prime minister, Imran Khan has been disqualified by the Election Commission of Pakistan (ECP) in the Toshakhana case.
The PTI workers reacted to disqualification by blocking the main roads across the country to express their sympathy with the former premier [Imran Khan].
In order to avoid any untoward incident, the government has alerted the police and other security forces.
On the other side, on getting the call of the protest, the PTI leadership in Peshawar closed the Peshawar motorway (M-1). , while the PTI workers have blocked Zero Point Highway from Faizabad. Activists also blocked the road leading to Lady Reading Hospital. Additionally, PTI supporters in Lahore, also started to stage protest in different areas of the city.
The PTI supporters also started to protest in Karachi, Multan, Gujranwala, Rahim Yar Khan, Sahiwal and other cities of the country.
It merits mention here that earlier, today the ECP announced a verdict in the Toshakhana case and disqualified the PTI chief in the case as a result of which the party's stalwarts and workers shrugged off decision of Imran's disqualification in the Toshakhana case.