PTI leaders reject Imran Khan's disqualification in Toshakhana case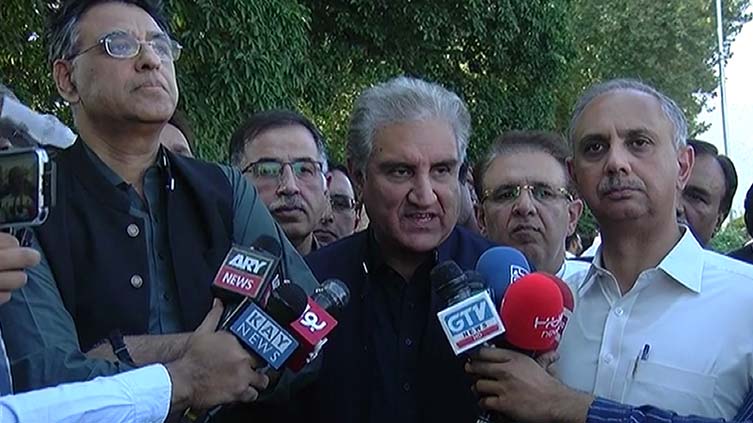 Pakistan
PTI leaders reject Imran Khan's disqualification in Toshakhana case.
ISLAMABAD (Dunya News) - After the Election Commission of Pakistan (ECP) announced the disqualification of former Prime Minister Imran Khan, the leadership of his party Pakistan Tehreek-e-Insaf (PTI) has rejected the verdict and said that the people of Pakistan are with Imran Khan.
While talking to media, PTI leader Shah Mehmood Qureshi said, "Today we all say that we do not accept the minus one" decision.
Qureshi added that people of Pakistan are with Imran Khan as the masses had rejected the current rulers on July 17. He said that the rulers are mistaken that if they can run the democracy with the PTI Chairman.
Former Information Minister Fawad Chaudhry said that this is a wrong decision, ECP cannot de-seat Imran Khan.
PTI leader Asad Umar said that the party will take this to the High Court and this verdict will not even stand for a few hours.
While Shahbaz Gill added that this verdict has been written by Pakistan Muslim League-Nawaz (PML-N) supremo Nawaz Sharif. He said that this verdict has been signed by the "personal servant" of Nawaz Sharif and people reject this verdict.
The party leadership said that this kind of verdict has never been witnessed before. This verdict is announced against the 22 crore people. The PTI leadership questioned that why don t the Chief Election Commissioner join the Pakistan Democratic movement (PDM)? They said that today Pakistan will be revolutionized. They will kick out these rulers from the assembly and save the constitution.
Earlier, a four-member bench headed by CEC Sikandar Sultan Raja announced the unanimous decision, in which the PTI chairman has been disqualified.
In the decision announced by ECP, it has been said that Imran Khan is no longer a member of the National Assembly, adding that he submitted a false affidavit and has been involved in corrupt practices.
The electoral watchdog declared Imran Khan's National Assembly seat as vacant.
ECP further added that Imran Khan is no longer 'Sadiq and Amin' and legal action should be initiated against him.