Strong demarche conveyed to the US Ambassador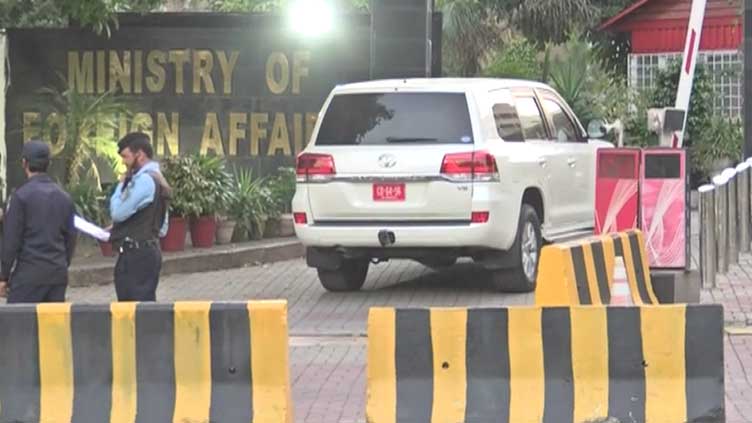 Pakistan
Strong demarche conveyed to the US Ambassador
ISLAMABAD (Dunya News) – Acting Foreign Secretary Jauhar Saleem on Saturday called in US Ambassador Donald Blome to deliver a demarche conveying Pakistan's disappointment and concern on the unwarranted remarks made by the US President, which were not based on ground reality or facts.
"It was made clear that Pakistan was a responsible nuclear state and its impeccable stewardship of the nuclear programme and adherence to global standards and international best practices was well acknowledged, including by the IAEA," the Foreign Office Spokesperson said in a press release.
The demarche was conveyed on the recent remarks made by US President Joe Biden during a Congressional campaign committee reception on October 14.
The real threat to international peace and security was posed by violation of global norms by some states, repeated nuclear security incidents without any accountability, and arms race between leading nuclear weapon states and introduction of new security constructs that disturb regional balance, it was added.
"It was essential to maintain the positive trajectory of Pakistan-US relations and the close cooperation between the two sides to build regional and global peace," the spokesperson said.
Bilawal's reaction
Earlier, speaking at a press conference in Karachi on Saturday, Foreign Minister Bilawal Bhutto Zardari said that the federal government has summoned US Ambassador Donald Blome to the Ministry of Foreign Affairs for an official demarche.
He said that the US President at an event had spoken about many countries, including Pakistan, about which he had a discussion with Prime Minister Shehbaz Sharif and that we had summoned US Ambassador Donald Blome to the Ministry of Foreign Affairs for an official demarche.
The foreign minister said that as far as the safety and security of Pakistan s nuclear assets are concerned, we have fulfilled all the standards of the International Atomic Energy Agency (IAEA) and if there were questions regarding the security and safety of nuclear assets, they should ask our neighbour India, which recently accidentally fired a missile on Pakistani soil, which was not only irresponsible and highly unsafe, but it also raises questions about the safety of Indian nuclear weapons.
"I was surprised by President Biden s statement," he said, and added, "I believe it was just a misunderstanding caused by a lack of communication, but fortunately we are now on a journey to restore communication. Recently, the 75th anniversary of Pakistan-US bilateral relations was celebrated in the State Department at the Secretary of State level, and if there was any concern in this regard, the matter should have been raised with me in that meeting.
He said, "We have summoned the US ambassador for demarche and I think we should give them [the US] a chance to explain their stance. I do not believe that this statement would have adverse effects on Pakistan-US relations. "