Umer Sarfraz Cheema directs IG Punjab to ensure arrest of Rana Sanaullah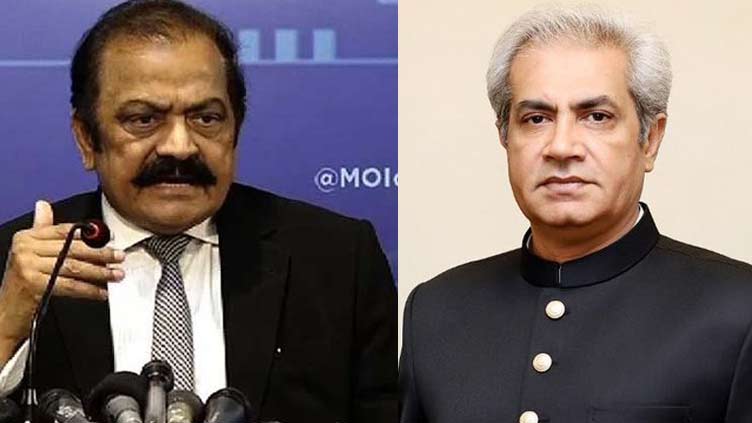 Pakistan
Umer Sarfraz Cheema directs IG Punjab to ensure arrest of Rana Sanaullah
LAHORE (Dunya News) – Punjab Home Adviser Umer Sarfraz Cheema on Thursday directed the IG Punjab to ensure arrest of Minister for Interior Rana Sanaullah.
In a statement the senior PTI leader and Punjab Home Adviser Umer Sarfraz Cheema said that anti-corruption Punjab has obtained the non-bailable arrest warrant of Rana Sanaullah and the arrest warrant is effective till October 19.
He said that the IG Punjab has been directed to assist Punjab Police Anti-Corruption to ensure the arrest of Rana Sanaullah as per the law.
Earlier, the hearing of Federal Interior Minister Rana Sanaullah s warrant case was adjourned till October 19. Senior Judge Akbar heard the petition, the court ordered the parties to present their arguments on a future date.
The plea stated that the anti-corruption records were tampered with and an arrest warrant was obtained by concealing the facts, hence, the arrest warrant should be canceled and the surety bond should be ordered.
Director Anti-Corruption Syed Anwar, Investigation Officer and other officials appeared before the court. During the proceedings, media representatives were barred from entering courtroom.
On Saturday, a special judicial magistrate issued a non-bailable arrest warrant for Federal Interior Minister Rana Sanaullah in case number 19/20. According to sources privy to the development, the warrant has been issued in a case pertaining to fraud after the PML-N leader failed to appear in an inquiry by the Punjab Anti-corruption Establishment (ACE).
The ACE spokesperson said that the magistrate has ordered to arrest and produce the PML-N leader before him. Meanwhile, the Islamabad police have sent back the ACE team, including four officers, who came to arrest the Interior Minister.
Sources privy to the matter said that the Punjab ACE team reached Kohsar Police Station to seek police assistance and informed them about the Rana's warrant, on which the police officials took the stand that Rana Sanaullah does not live within the limits of Kohsar Police Station because the address on the arrest warrant is Faisalabad.
On the other hand, Minister for Information and Broadcasting Marriyum Aurangzeb said that arrest warrants of Rana Sanaullah were issued in Lahore as Pakistan Tehreek-e-Insaf Chairman Imran Khan was afraid of him.
In a tweet, she said that it was a conspiracy to spread chaos and anarchy in the country in order to divert attention from the corruption of "foreign agent, liar", who was playing with national security and trying to hoodwink the people.
The minister said that, on the orders of Imran Khan, preparations were being made to invade the federation.