Accountability court cancels Ishaq Dar's arrest warrants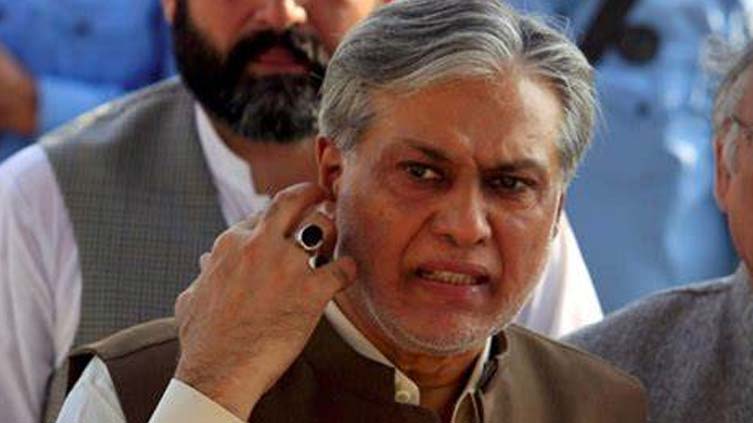 Pakistan
Accountability court cancels Ishaq Dar's arrest warrants.
ISLAMABAD (Dunya News) - An accountability court in Islamabad has cancelled permanent arrest warrants issued for Pakistan Muslim League-Nawaz (PML-N) senior leader and Finance Minister Ishaq Dar who appeared in the court on Friday morning.
The court also ordered Ishaq Dar to submit a surety bond of one million rupees.
During the hearing Dar's lawyer Qazi Misbah pleaded the court to permanently cancel his warrants and also to cancel the order of confiscating his property. While the hearing of the case was adjourned till October 12.
The lawyer told the court that it had issued the arrest warrants so Dar appears before the court, adding that they should be cancelled now as the minister is present before the court.
"Did NAB also issue arrest warrants of Ishaq Dar," Judge Bashir asked the anti-corruption watchdog's prosecutor.
Anti-graft's body responded in the affirmative but clarified that the warrants were suspended.
"What is your point of view now, should the warrants be cancelled or not?" asked the judge.
At this question, the NAB prosecutor supported the cancellation of warrants, adding that they were issued to ensure Dar's appearance in the case.
The judge then remarked that it will have to indict Dar once again as a supplementary reference has also been filed against him.
To this, Dar's lawyer stated that they will give arguments on the supplementary reference.
Before adjourning the case till October 12, the court issued notices to NAB over the application filed against the confiscation of Dar's property and permanent exemption from attendance.
The court has ordered NAB to present its arguments at the next hearing on both applications.
Addressing the media, he said no one will be allowed to control rupee s value artificially.
The Minister said by every passing day rupee s value is improving, however, he regretted that the previous government devalued Pakistan s currency artificially.
The Minister urged all political parties not to do politics over economy. He said charter of economy is need of the hour and a consensus should be developed in this regard.
The Minister said with improved rupee s value our foreign debt has decreased by 2600 billion rupees within few days.
The Minister said the case of not filing tax returns against him is baseless and just aimed at taking political revenge.