President Alvi urges political leadership to avoid polarisation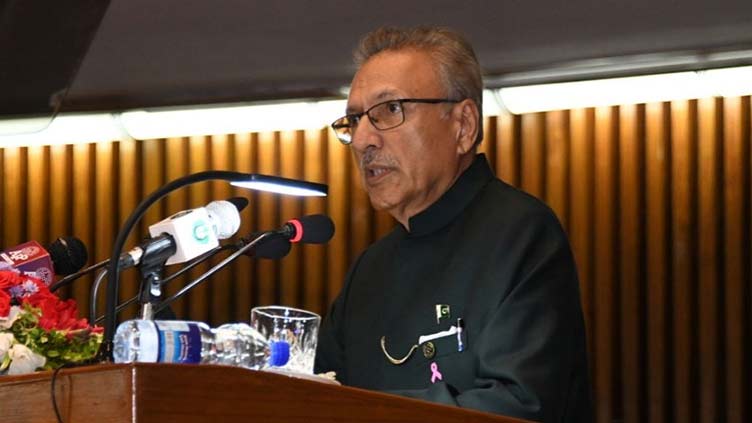 Pakistan
President Alvi urges political leadership to avoid polarisation
ISLAMABAD (Dunya News) - President Arif Alvi on Thursday urged the political leadership to do away with political polarisation and promote unity as espoused by the founding fathers to exploit the true potential of this great nation.
Addressing the joint sitting of Parliament, President Alvi said this is an election year but a decision regarding the election date has to be decided by the political parties through dialogue.
Regarding freedom of expression, he said an independent and free media is necessary for a vibrant democracy.
The President also appreciated the government's decision to investigate the recently leaked audio of various leaders.
Arif Alvi stressed the need for dam construction to avert devastating floods in the country, saying this would also help store water for use in difficult times.
He appreciated the federal and provincial governments, NDMA, PDMAs, and the armed forces for their timely response to the flood relief activities.
He expressed satisfaction over the international focus on the floods in Pakistan, saying the UN Secretary General visited Pakistan to see the ground situation.
Referring to the losses inflicted by floods on the agriculture sector, the President suggested a crop insurance scheme for farmers to compensate for their losses.
The President said special focus should be given to bring improvement in the health and education sectors. Alvi was appreciative of the initiative taken by BISP to deal with the issue of malnutrition.
President Dr Arif Alvi denied "brokering" any deal in the political scenario. However, he said he always tried in his own capacity to "bring people closer". "I am not a broker. "I only make efforts to bring people closer,"
Asked if he played any role in mending ties between Pakistan Tehreek-e-Insaf leader Imran Khan and top government officials, the president said, "Even in conflict within a family, people contribute on their part to sort things out. This is never an easy job. "
On the prospects of the success of his efforts, the president said he could not predict the results, but added that "the efforts must be carried on".
When asked for his opinion on the expected unrest in the country over the proposed public call by Imran Khan, he said, "I will not give any explanation for his statements [in this regard]."