Maryam accuses Imran Khan of seeking NRO in secret President House meetings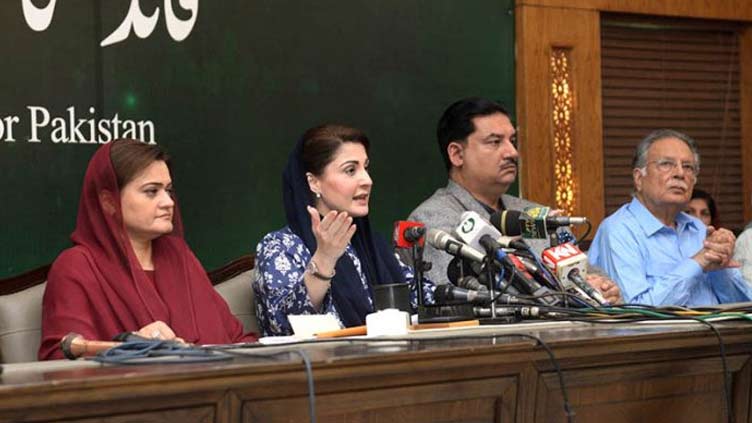 Pakistan
Maryam accuses Imran Khan of seeking NRO in secret President House meetings
LAHORE (Dunya News) – Pakistan Muslim League-Nawaz (PML-N) vice president Maryam Nawaz on Tuesday accused former prime minister and Pakistan Tehreek-e-Insaf (PTI) chairman Imran Khan of seeking NRO by holding meetings in the President House and resort to threats when not given NRO.
Addressing a press conference in Lahore on Tuesday, she prayed that the former PM and party supremo Nawaz Sharif return to Pakistan with her.
She said that she was not satisfied with her party's government, adding that the country isn't facing threats on external front, but by instability and Pakistan will progress when Imran Khan would be removed from Pakistan s politics.
Maryam said she was arrested for investigation and was kept in illegal detention by the National Accountability Bureau for 57 days and was later shifted to Lot Lakhpat Jail on judicial custody where she was kept for around one and a half month. Maryam said that she did not take any immunity of being a woman and faced the cases against her by appearing in courts regularly and spending time in NAB detention.
Maryam Nawaz said that she had been appearing before the courts in Panama Papers case where not a single evidence was presented against her by the prosecution and she had been vindicated as nothing could be proved against her and father Nawaz Sharif.
She said that baseless cases were initiated against her and Nawaz Sharif to oust them from the political field. Maryam Nawaz said that she had instructed her lawyers that she did not want to take any relief or benefit from NAB amendments and would contest her case on previous NAB laws.
Maryam Nawaz said that baseless statements were being uttered by Pakistan Tehreek-e-Insaf chief Imran Khan regarding return of Finance Minister Ishaq Dar, saying that it was very unfortunate that everything was attributed to be a deal. She regretted that the PTI leadership had introduced very bad traditions in country's politics by using abusive remarks for political opponents.
She commented that Bani Gala was worried that why country's economy was recovering and Pakistani rupee was getting stable and Ishaq Dar's return would further improve economic situation of the country as Finance Minister Ishaq Dar had a track record of bringing the country's economy out of crisis.
Maryam Nawaz said the PTI chief was real master of giving 'NRO' to his favoured persons like Farah Gogi which had been given clean chit in corruption cases in Punjab and was sent abroad through a chartered plane.
She said that sufficient evidence had surfaced against PTI chief in foreign funding and 'Tosha Khana' cases and when the Election Commission of Pakistan brought his wrongdoings in foreign funding case, the PTI chief launched a campaign against the ECP chief.
Maryam Nawaz said that PTI chief Imran Khan only knew to give lecture on giving respect to women but practically he did not know how to give respect because action against her was actually taken on the direction of Imran Khan. PTI chief's threatening remarks against an honourable woman judge was a self evidence that he did not have any respect for others particularly for women, she added.
Earlier today, Deputy Registrar of Lahore High Court (LHC) had returned passport of Pakistan Muslim League-Nawaz (PML-N) vice president Maryam Nawaz.
LHC had ordered to return Maryam Nawaz's passport on Monday after a three-member bench headed by the Chief Justice of LHC wrapped up the petition filed by the PML-N leader for her passport return after NAB decided not to oppose Maryam's plea.
The development comes days after the Islamabad High Court (IHC) set aside Maryam's conviction in the Avenfield case. It should be noted that Maryam Nawaz had surrendered her passport to the court in 2019 for getting bail in the Chaudhry Sugar Mills case.
Maryam Nawaz, while reacting to order of LHC, said that her passport was seized for three years even though there was never a case to begin with. Criticizing previous PTI led government, the PML-N leader said that they kept her in illegal custody for 'investigation' because they were scared of her public rallies.
Watch complete press conference