Audio leak proved cypher is reality: Imran Khan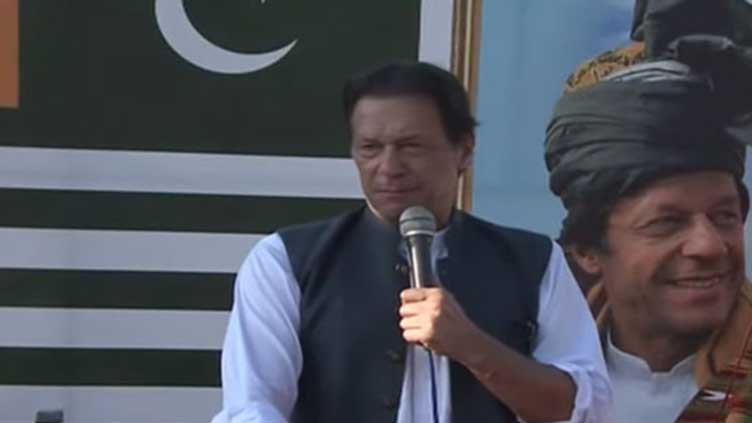 Pakistan
Audio leak proved cypher is reality: Imran Khan
MUZAFFARABAD (Dunya News) – Former Prime Minister and Pakistan Tehreek-e-Insaf (PTI) chairman Imran Khan on Thursday while reacting to a recent audio leak allegedly featuring him regarding the 'Cablegate' cypher said that he was grateful to PM Shehbaz for leaking his audio and proving that the cypher was a reality.

Addressing a public rally in Muzaffarabad that a US-backed regime change conspiracy toppled his government through a no-confidence motion. The PTI chairman accuses Lu of threatening Pakistan's former ambassador to the US, Asad Majeed, that a failure to remove Imran through a no-confidence vote would herald "consequences" for Pakistan and vice versa.

Imran also alleges that the threat was made even before the no-confidence motion was tabled and that it subsequently started a chain of events that resulted in his ouster as local abettors and conspirators joined in the claimed conspiracy.

"I want to thank you, Shahbaz Sharif, you leaked my conversation with the Principal Secretary, and proved that the cypher was true," Imran said.
Earlier on Wednesday, A damning alleged audio of former Prime Minister Imran Khan and his key aide, Azam Khan was leaked online.

According to details, in the alleged audio conversation, Imran Khan and his principal secretary could be heard discussing the US cypher, which the PTI chief claimed led to the ouster of the previous government.

In the alleged conversation, Imran Khan could be heard saying that we just have to play with it without naming the United States.

Azam Khan suggests that a meeting of Foreign Minister Shah Mahmood Qureshi and the Foreign Secretary should be held where Shah Mahmood Qureshi will be asked to read out the letter.

"So whatever he tells us, I will type it down and convert it into minutes. "After this, we will write the analysis as we deem fit, so it becomes part of the record,", he suggested.

Azam Khan further said that in the analysis, we will say that the language used in the letter is a threat, and the minutes of the meeting are in my hand as we can draft them according to our wishes.

After listening to his principal secretary's suggestion, Imran Khan directs him to go ahead with the meeting.

Azam, further clarifying his suggestion, said that the foreign secretary should be called to the meeting so that this thing can be highlighted at the bureaucratic level, not just the political one.

"You understand what I'm saying?", he asks PTI Chief.