Maryam considers herself above law, Imran gives his two cents on audio leaks saga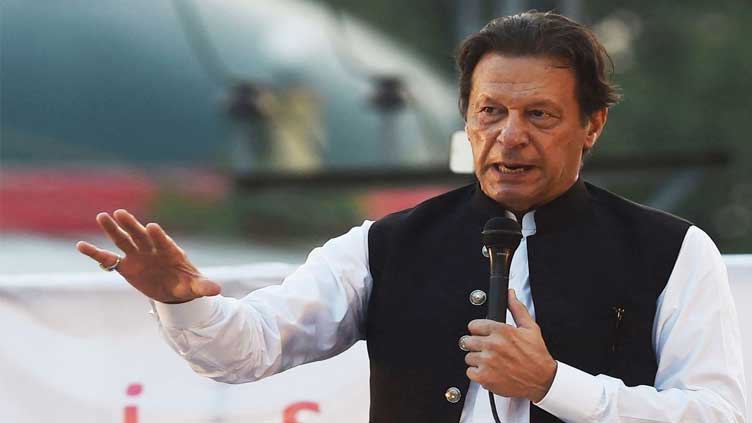 Pakistan
Maryam considers herself above law, Imran gives his two cents on audio leaks saga
LAHORE (Dunya News) – Former Prime Minister and Pakistan Tehreek-e-Insaf (PTI) supremo Imran Khan on Monday while reacting to alleged audio leak of Pakistan Muslim League – Nawaz (PML-N) vice president Maryam Nawaz's son-in-law with Prime Minister Shehbaz Sharif said that Maryam considers herself above the law and can do whatever she wants.

Addressing to traders convention in Lahore, the former PM said that his government was toppled by giving up to Rs25 million to lawmakers, adding that the government of thieves stole 1100 billion. During his time, there was 6% growth after 17 years. According to the World Bank. despite COVID-19, the employment ratio was high and overseas Pakistanis sent record foreign exchange, he added.

The PTI chairman, while commenting on recent government audio leaks, said that in the audio leaks Maryam Nawaz's son is ordering machines from India, adding that in his government, trade has been banned from India due to atrocities in Kashmir.

"How was the machinery imported from India despite the ban on trade? Maryam is a princess above the law who can do whatever she wants. And in the same way, they are giving orders to the Chief Election Commissioner in how many constituencies to hold elections. There will be more audio recordings to come in the coming days, "Imran Khan said.
Earlier, Imran Khan said due to deals with the corrupt, Pakistan has not prospered as it was expected to.

The former prime minister said Ishaq Dar fled Pakistan in the aircraft of Shahid Khaqan Abbasi, who was the then prime minister of the country.

He asked the masses are we sheep? will we continue to see this game? He also asked the participants of the public gathering to name any country whose three-time prime minister is living abroad.

Commenting on the alleged foreign conspiracy to topple his government, Imran Khan said Donald Lu threatened of strong reaction if the PTI government is not removed. On March 7, Lu threatened Pakistani envoy Asad Majeed and on March 8, PDM tabled a no-confidence move in NA, he added.

Corrupt rulers were imposed on Pakistan again through "foreign conspiracy", Imran Khan said. He said 60pc cabinet members of the incumbent federal government are currently on bails and they have amended NAB law to get relief in corruption cases registered against them.