Youm-e-Ashur to be observed with due solemnity on Tuesday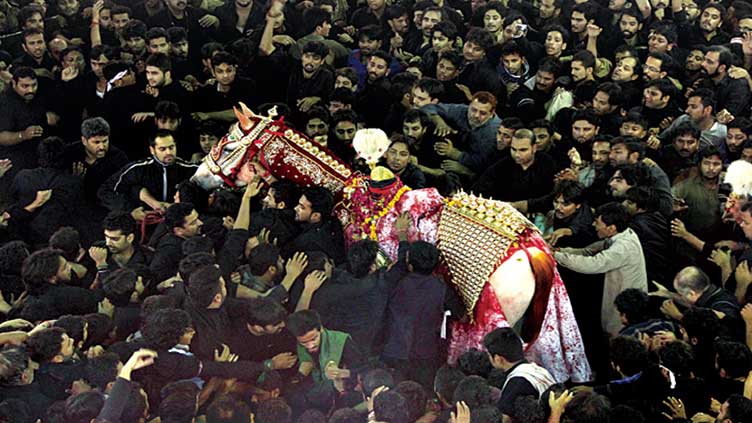 Pakistan
Youm-e-Ashur to be observed with due solemnity on Tuesday
LAHORE (Dunya News) - Yaum-e-Ashur, the tenth of Muharram-ul-Haram, will be observed on Tuesday across the country with due solemnity to pay homage to the supreme sacrifice rendered by Hazrat Imam Hussain Razi Allah ho Ta'ala Anho and his devoted companions in Karbala.
Mourning processions will be taken out in all cities and towns of the country.
Ulema and Zakireen will highlight the bright and candid teachings of Hazrat Imam Hussain (R.A.) and various aspects of Karbla tragedy.
Meanwhile, in connection with the 9th Muharram today (Monday), Taazia and Zuljanah processions have been taken out in different parts of the country in memory of the martyrs of Karbala.
Elaborate security arrangements have been made to avoid any untoward incident during the mourning processions. The government has deployed a contingent of police, rangers and army under strict security arrangements across the country, especially in sensitive cities and areas.
While mobile phone and internet services have also been partially stopped at sensitive places for peace. Besides, ban has been imposed on pillion riding during Ashura.
As part of the security arrangements, the administration has also blocked the routes by erecting containers and other obstacles including barbed wire in the procession routes and the central areas have been sealed from all sides, visitors are being allowed to enter after passing through the walk-through gate.
In Lahore, the provincial capital of Punjab, the main procession has taken off from Islampura Pandu Street. It will pass through the designated routes and end back at its starting point.
According to sources, the main procession of the 9th of Muharram in the federal capital departed from Imam Bargah Asna Ashri G62 and will end at the same place today (Monday).
In Karachi, the main procession for 9th of Muharram departed from Nishtar Park and will pass from Muhammad Jinnah Road through Saddar's Empress Market, Tibet Centre and end at Imam bargah Hussainia Iranian.
Meanwhile, the main procession of 9th Muharram al-Haram in Peshawar departed from Imam Bargah Hussainia Hall. In Quetta also, the main procession has taken off from Mekangi Road.
On the other hand, a control room has been activated in the DC office to monitor the main Muharram processions in Lahore. Processions and gatherings will be monitored with 650 cameras.
On behalf of the administration, 375 CCTV cameras have been installed on the routes of the main five major processions of the provincial capital Lahore.
The program organizers have also been directed to ensure adherence to the code of conduct, route and timings.