Imran Khan says Supreme Court verdict hurt greatly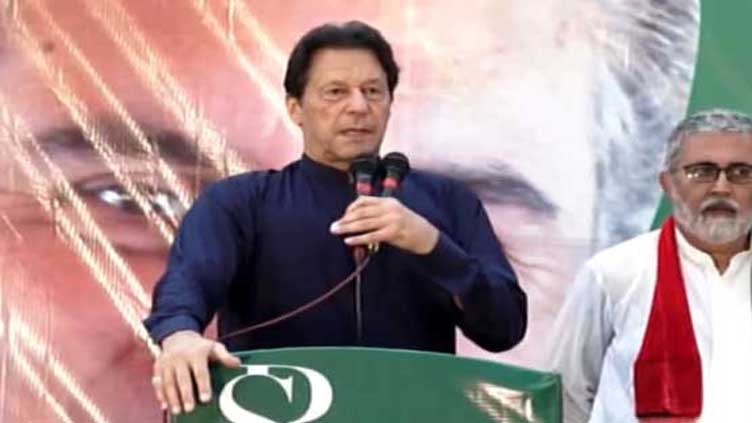 Pakistan
Imran Khan says Supreme Court verdict hurt greatly
DERA GHAZI KHAN (Dunya News) - Pakistan Tehreek-e-Insaf (PTI) Chairman Imran Khan on Thursday while expressing disappointment over the Supreme Court verdict on the deputy speaker's ruling said that he was hurt by the decision of the apex court, and he always respects the judiciary but his movement is to bring justice
Addressing a rally in Dera Ghazi Khan ahead of July 17 Punjab by-elections, Imran Khan said that the US undersecretary threatens that if Imran is not ousted then there will be problems, adding that he asks the judiciary what could be a bigger insult to 220 million people than this.

He further said that the letter was placed before the Cabinet and the National Security Council, Parliament, the Speaker sent the cipher to the Chief Justice, and the President sent the letter to the Chief Justice for inquiry.
Calling out the Supreme Court, PTI Chairman said that when President Arif Alvi sent the letter to the Chief Justice why he did not investigate the matter.
"If we do not conduct an inquiry, then none of our future prime ministers will be able to stand in front of America. Do you think that Shehbaz Sharif will stand in front of America? America needs a Prime Minister like him. Shahbaz Sharif has already fallen to his knees before the US," Imran said.
The PTI chairman said that when he heared the apex court decision, it hurted him a lot.
Apart from criticising the SC's ruling, Khan castigated Chief Election Commissioner Sikandar Sultan Raja, saying that the nation "would not forgive him" for supporting the incumbent government.

He said that the CEC's spokesperson has him to back his allegations against Raja. "Why should I respond? You are answerable before me."

The PTI chairman alleged that he has evidence of the CEC's meetings with Punjab Chief Minister Hamza Shahbaz and PML-N Vice President Maryam Nawaz.

"Chief election commissioner, why are you taking your team to Lahore? Remember, the nation will not forgive you."

Watch complete speech