Condemnations pour in after senior journalist Ayaz Amir thrashed by unknown men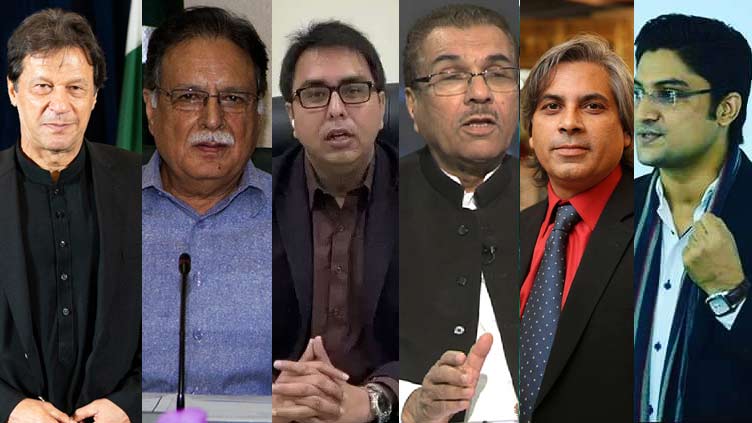 Pakistan
Condemnations pour in after senior journalist Ayaz Amir thrashed by unknown men
LAHORE (Dunya News) – Political leaders and journalist community on Friday strongly condemn the attack on senior journalist and analyst Dunya News Ayaz Amir in Lahore.
The senior journalist was attacked at Abbot Road in Lahore while his way back home. The attackers manhandled the senior analyst and also took away his belongings including mobile phone.
Amir told Dunya News that his vehicle was blocked and nearly six people tortured him and his driver. The attackers reportedly were wearing face masks.
Politicians
Imran Khan
Former PM and Pakistan Tehreek-e-Insaf (PTI) chairman Imran Khan in his latest Tweet condemned assault on senior journalist. "I condemn in strongest terms the violence against senior journalist Ayaz Amir today in Lahore. Pak descending into the worst kind of fascism with violence & fake FIRs against journalists,opp politicians, citizens.When the State loses all moral authority it resorts to violence," Imran Khan wrote.
— Imran Khan (@ImranKhanPTI) July 1, 2022
Shahbaz Gill
Dr. Shahbaz Gill wrote on the social networking site Twitter that the attack on Ayaz Amir has been reported as violence and snatching of his mobile phone. These are the same tactics of traditional fascism.
Pervaiz Rashid
Senior PML-N leader Pervaiz Rashid wrote that the violence against Ayaz AMir deserved less condemnation because all agencies responsible for the protection of citizens must arrest the perpetrators as soon as possible and bring them to justice.
Farrukh Habib
Former Minister of State for Information and Broadcasting Farrukh Habib wrote that Ayaz Amir, a well-known journalist, analyst and columnist and he strongly condemned the attack on him.
Chaudhry brothers
Pakistan Muslim League-Quaid (PML-Q) leader Chaudhry Shujaat Hussain, Speaker Punjab Assembly Chaudhry Parvez Elahi and Monis Elahi strongly condemned the violence against senior journalist and analyst Ayaz Amir and his driver.
Chaudhry Shujaat Hussain said that Ayaz Amir is a very polite and well-mannered journalist and violence against him is not acceptable.
Chaudhry Pervaiz Elahi said that Punjab government should immediately arrest those who attacked the senior journalist.
Former federal minister Monis Elahi also said that those responsible should be severely punished.
Attaullah Tarrar
Punjab Home Minister Ataullah Tarar has condemned the attack on Amir and said that no one will be allowed to take the law into their own hands, whereas the perpetrators will be prosecuted and legal action will be taken. He said intolerance has badly affected society.
Fawad Ch
Former federal minister and PTI leader Fawad Chaudhry also condemned the attack on the senior journalist. "PTI strongly condemn attack on senior journalist Ayaz Amir, since imported government took over attacks on Journalists have become a norm we demand a conclusive probe into the incident dissent must be tolerated," he wrote.
— Ch Fawad Hussain (@fawadchaudhry) July 1, 2022
Journalists
Mujeebur Rahman Shami
Senior journalist and Dunya News analyst Mujibur Rahman Shami condemned the violence against Ayaz Amir and said that it was a very shameful act.
He further said that Ayaz Amir is a respected journalist, the Punjab government should take immediate notice of this incident, the attackers should be arrested immediately, and all journalist unions should adopt a joint strategy in this regard.
Kamran Khan
Dunya Media Group President and Senior Anchor Kamran Khan has said that attack on Ayaz Amir is an attack on freedom of press and they way he was targeted is targeting is reprehensible, adding that the attackers should be arrested as soon as possible.
Salman Ghani
Dunya News senior analyst Salman Ghani said that attack on Ayaz Amir is a challenge for the elected government and the attack on him is reprehensible, this attack is also a message for us, adding that difference of opinions is the beauty of democracy.
Ajmal Jami
Senior journalist Ajmal Jami wrote that this despicable incident deserves less condemnation. Ayaz Amir speaks politely, has differences of opinion and the differences of opinion should be respected by the people. What kind of democracy is this where all these incidents have become normal?
Hassan Askari
Senior analyst Hassan Askari condemned the attack on Ayaz Amir and said that the attackers should be punished and this is a very unfortunate and reprehensible incident.

He further said freedom of expression is necessary to promote journalism. It is reprehensible to suppress anyone's voice the government should protect the rights of journalists.

Habib Akram
Senior journalist Habib Akram has said that it is not right to atttack anyone over difference of opinions and the state should strongly respond to these unknown persons.
Arshad Sharif
Irshad Arif

Senior journalist Irshad Ahmad Arif wrote on Twitter that the attack on analyst Ayaz Amir, snatching of mobile phone is shameful, adding that this incident is a serious challenge for the provincial and federal government. The culprits should be arrested soon, he said.
Mazhar Abbas
Senior journalist and analyst Mazhar Abbas also condemned the attack and said that political differences can be made with Ayaz Amir but the attack was a very serious matter, it is a challenge for the administration of Punjab.
He further said that such incidents against journalists are constantly happening, adding that attackers should be arrested immediately, this is a very sad and reprehensible incident.
Mubashir Zaidi
Senior journalist Mubashir Zaidi on Twitter wrote that he strongly condemned the cowardly attack on senior journalist Ayaz Amir and he hopes Prime Minister Shehbaz Sharif will punish the attackers.
Rauf Klasra
— Rauf Klasra (@KlasraRauf) July 1, 2022