Economic Survey proves country was on path of progress during last two years: Imran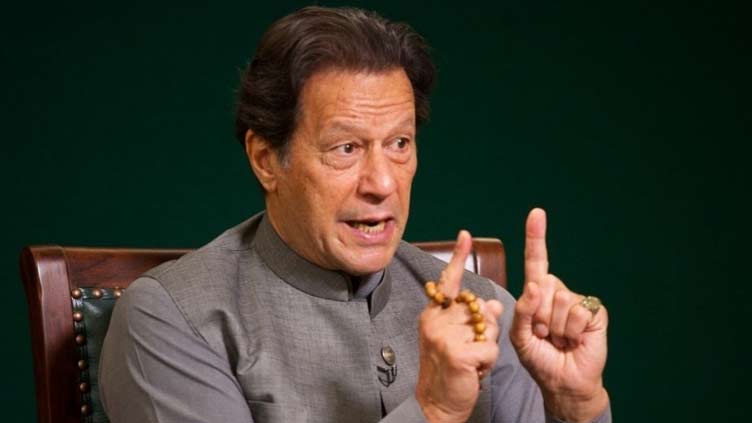 Pakistan
Economic Survey proves country was on path of progress during last two years
ISLAMABAD (Dunya News) – Former prime minister and Pakistan Tehreek-e-Insaf (PTI) chairman Imran Khan said on Thursday that the Economic Survey 2021-22 launched by the government proved the performance of his government.
Commenting on economic reforms, Imran Khan said that the tax revenue rose to Rs6 trillion while the exports surged to$32 billion during PTI government's tenure.
He said that today economic survey endorsed that Pakistan was making progress in last two years, adding that huge amount of money was coming from foreign countries during Musharraf era.
The PTI chairman went on to say that the Gross Domestic Product (GDP) growth was nearly 6% during the last couple of years and growth in different sectors was also evident.
He said the government endeavored to lift the underprivileged class, adding that the people would experience the real taste of inflation in the utility bills of next month.
The former PM further said they did not succumb to the pressure of International Monetary Fund (IMF) and thought for the people.
The foreign remittances witnessed a record increase due to trust in the PTI government by overseas Pakistanis.
Recalling the achievement of his government in the agriculture field, Imran Khan said agriculture production witnessed a 4.4pc increase, while the price of the crops of farmers was provided to them on time.
Taking a jibe at the government, Imran Khan said that inflation is touching sky-high since the 'imported government came into power.
PTI government was also asked by the IMF to jack up fuel and electricity prices, but we denied stating that the decisions are not in favour of the people of Pakistan.
In the ruling tenure of the PTI government, the petrol was jacked up by Rs55 per litre, but the 'imported government' has raised its prices by Rs60 in just 15 days, he was quoted. He regretted that Pakistan is unable to get foreign loans due to the incompetence of the government. "WAPDA's credit rating has been also downgraded."
Watch Imran Khan s speech