Govt welcomes ceasefire extension with TTP: Marriyum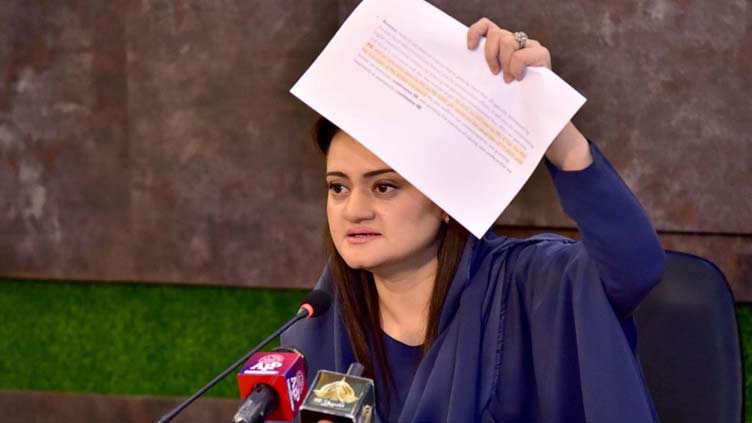 Pakistan
Govt welcomes ceasefire extension with TTP
ISLAMABAD (Dunya News) – Minister for Information and Broadcasting Marriyum Aurangzeb said on Friday the government welcomed the ceasefire extended by the outlawed Tehreek-e-Taliban Pakistan (TTP) under the ongoing negotiation, which was opened in October, 2021.
Responding to a query while addressing a press conference on Friday, she said that the negotiation is being held at the government level. The Government of Afghanistan is facilitating the talks, which have the representation of the civilian government as well as of the military.
She said the talks with the TTP, which were being held within the constitutional domain, would be concluded with the government's approval. "Whatever the decision will be taken by the negotiating committee in this regard, it will be taken in line with the Constitution and approval of the Parliament and the government," she added.
Marriyum said the talks would proceed with the consensus of both parties.
The minister went on to say that government is taking concrete steps to mitigate impact of recent petroleum price hike, adding that government took the decision of fuel price hike with a heavy heart.
She said government will provide two thousand rupees to fourteen million poor families, who have their income below forty thousand rupees, to protect them from impacts of price hike. She said families registered in BISP will also be receiving additional two thousand rupees.
She said deserving people can call at 786 to check their eligibility status for relief package.
Marriyum Aurangzeb said the decision of price hike of petroleum products was taken beyond of politics, adding that the government will also announce an austerity drive very soon.
She said common people are under burden of price hike due to imprudent decisions of previous government.
Marriyum Aurangzeb criticized previous PTI government for inking IMF agreement with harsh terms and conditions.
Responding to a question, she said government is taking steps to bring Charter of Democracy to draw some red lines for upcoming governments. She said government will hold a conference on Tuesday in this regard and all stake holders will be present there to discuss the matter.