PTI begins long march amid blockades, crackdown against workers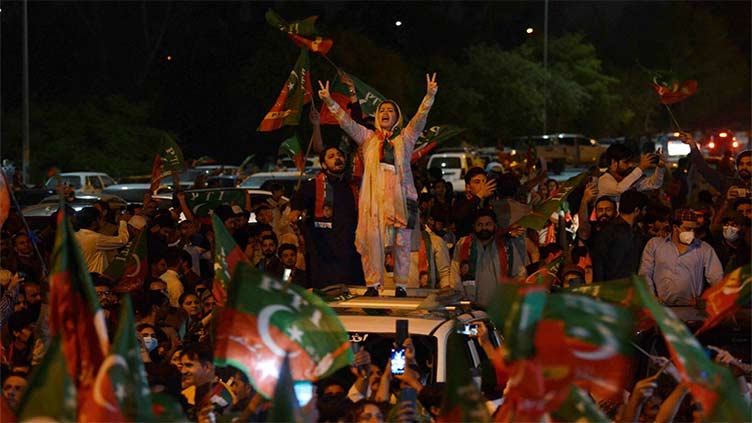 Pakistan
PTI begins long march amid blockades, crackdown against workers
ISLAMABAD (Dunya News) – Amid blockades and crackdown against party workers across the country, the Pakistan Tehreek-e-Insaf's (PTI) planned long march announced by former prime minister Imran Khan following public rallies held across the country will start today (Wednesday).
The former prime minister and PTI chairman will reach Swabi by helicopter from Peshawar, leading the procession from Ambar Interchange.
The PMLN-led federal and Punjab governments have closed several roads leading to Islamabad from various Punjab cities and Khyber Pakhtunkhwa (KP) province in an effort to stop PTI activists from marching on Islamabad.
The PTI chairman announced that he would welcome party activists at Islamabad's Srinagar Highway at 3pm on Wednesday, May 25. On Tuesday, he said he would lead the march from KP to Islamabad.
The government has cut road links between KP and Punjab as police parties continue to raid the homes of PTI activists. The authorities have also imposed Section 144 in Sindh, Punjab, and Islamabad Capital Territory, banning the assembly of more than four people.
Lahore
Most extensive road blockades were seen in the Punjab capital of Lahore where the government placed shipping containers over the Ravi Bridge. A heavy contingent of police was deployed there.
The blockade caused a massive traffic jam as the old Ravi Bridge has already been closed for heavy traffic.
Rawalpindi and Islamabad
In Rawalpindi, the government has sealed all the bus terminals, effetively shutting down inter-city public transport. The most import Pirwadhai and Soan bus terminals were sealed first.
The authorities have told transporters not to ply their vehicles for the next few days.
In Islamabad, the authorities started sealing the red zone soon after Imran Khan spoke on Sunday. The PTI is planning to stage protracted a sit-in near the Srinagar Highway — the main artery of the city — without entering the red zone.
The government would be deploying over 22,000 security personnel near the sit-in including 4,000 from Pakistan Rangers and 8,000 from Punjab Constabulary. At least 2,000 anti-riot police officers and another 2,000 Sindh police personnel have also been called in to assist Punjab police.
Section 144
Meanwhile, Sindh and Punjab governments and the Islamabad capital territory administration have imposed Section 144.
Under Section 144, the display of arms and the assembly of more than five people is banned. Along with this, a ban has also been placed on the tools that could possibly be used for aggression as well as provocative speeches.
It has also been learned that the Punjab government is also considering summoning the paramilitary Rangers to ensure the law and order situation in the province.
IHC bars govt from harassing workers
Islamabad High Court (IHC) has ordered government to stop harassing workers of Pakistan Tehreek-e-Insaf (PTI).
IHC conducted hearing on plea of PTI against closure of roads and possible arrests of its leaders and workers in the federal capital.
The court directed officials to not harass anyone unnecessarily and issued notices to IGP, Chief Commissioner and Deputy Commissioner Islamabad.
During the hearing, Chief Justice Athar Minallah remarked that unbridled protests cannot be allowed in the federal capital and how will miscreant elements be dealt with if they reach Islamabad under guise of a protest.
No compromise
Addressing a press conference with PML-N leadership and the coalition parties, Interior Minister Rana Sanaullah said that Pakistan Tehreek-e-Insaf is coming to attack Islamabad and the government of Pakistan will not let that happen.
Rana Sana said that the government has decided to stop PTI's long march as the government will not compromise on the writ of the state and no one will be allowed to bring Islamabad to a standstill.
He added that the government will ensure the security of the people.
Federal Minister Sanaullah said that they will not allow PTI to spread chaos in the city and they are conspiring to divide the nation and we will not let that happen. "These people have moved from abuses to bullets, a police constable was killed," he said.
Ministers condemn killing of constable
Minister for Information and Broadcasting Marriyum Aurangzeb said that red line has been crossed after shooting of police constable Kamal Ahmad in Lahore.
The federal minister went on to say that it is time to mark a "red line" to rescue Pakistan's people and the economy. "We have drawn a red line for the development of Pakistan's economy, we will not allow anyone to cross it," she said.
Aurangzeb further said that those who destroyed Pakistan will not be allowed to destroy it anymore. "Whenever Pakistan's economy takes off, Imran's miscreant behavior comes in the way," she added.
Similarly, Interior Minister Rana Sanaullah said that shooting of police constable is the proof that Imran Khan is a terrorist and he is the murderer of Kamal Ahmad.
The federal minister said that those who say march of "bloodshed" will happen will be held accountable. After firing on police, it has been proved that this is not a political activity. "It is a proof that they never wanted a peaceful March," he said.
Sanaullah went on to say that these people who used abusive language, have started to fire bullets. They broke the law and will be held accountable for that.
"Imran Khan is trying to start a civil war in the country. We will bring them to justice. We will not let civil war, chaos and anarchy to rule in the country," he said.