ECP issues written verdict of de-seating 25 dissident PTI members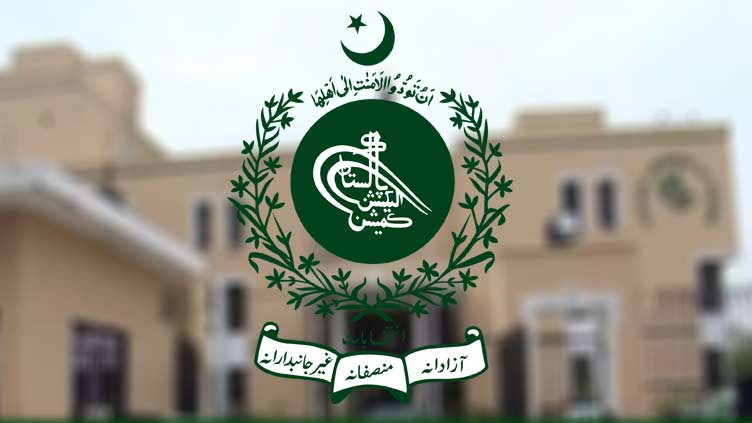 Pakistan
ECP issues written verdict of de-seating 25 dissident PTI members
ISLAMABAD (Dunya News) – The Election Commission of Pakistan (ECP) has issued a written decision to de-seat 25 dissident members of Pakistan Tehreek-e-Insaf (PTI) from Punjab Assembly.
The Election Commission unanimously pronounced the verdict in the light of the interpretation of Article 63A of the Supreme Court. The decision is 23 pages long.
The decision of the Election Commission stated that the members voted for the opposition candidate in the election of the Punjab Chief Minister.
According to the ECP's ruling, it is the opinion of the members that voting for the opposition candidate is a serious matter and voting for an opposing candidate is the worst form of fraud with party policy. The ECP reached the conclusion on issue of deviation that it will not depend on the issue of fulfillment of conditions.
The 25 dissident PTI members who have been de-seated include Raja Sagheer Ahmed, Malik Ghulam Rasool Sangha, Saeed Akbar Khan, Mohammad Ajmal, Abdul Aleem Khan, Nazir Ahmed Chohan, Mohammad Amin Zulqernain, Malik Nauman Langrial, Mohammad Salman, Zawar Hussain Warraich, Nazir Ahmed Khan, Fida Hussain, Zahra Batool, Mohammad Tahir, Aisha Nawaz, Sajida Yousaf, Haroon Imran Gill, Uzma Kardar, Malik Asad Ali, Ijaz Masih, Mohammad Sabtain Raza, Mohsin Atta Khan Khosa, Mian Khalid Mehmood, Mehar Mohammad Aslam and Faisal Hayat.
Earlier today, the Election Commission of Pakistan (ECP) ordered to de-seat 25 dissident Pakistan Tehreek-e-Insaf's (PTI) members of Punjab Assembly, accepting the disqualification reference against them.
Earlier, the ECP had reserved its decision on the disqualification references against 25 dissident Punjab MPAs of the Pakistan Tehreek-e-Insaf (PTI).
The arguments in the case were already completed on the disqualification reference which was sent to the ECP by Punjab Assembly Speaker Chaudhry Pervaiz Elahi against the PTI's dissident members.
During the last hearing, the counsel for the dissident members of the provincial assembly argued that the MPAs were unaware of the directions given by the parliamentary party about voting in favour of Pervaiz Elahi for Punjab's chief minister.
On which, the PTI counsel, Syed Ali Zafar said, "By taking the defence and claiming they were not aware of parliamentary party directions regarding who to vote for in the election of the chief minister when the entire world and the nation knew about it, and the same was being discussed in talk shows and reported in the newspapers, is like saying that the MPAs were, though awake, yet sleeping all this time," he added.
The counsel claimed that meeting of the parliamentary party was held on April 1, its decision was reported in the press the next day, that notices to all MPAs of the Punjab Assembly were issued on April 2 by the chief whip, and another notice was sent on April 4 by PTI General Secretary Asad Umar, that another meeting was held in April in which the same decision was taken, and that a notice was sent on April 7 for the third time.