NA passes resolution condemning Imran Khan's statements against institutions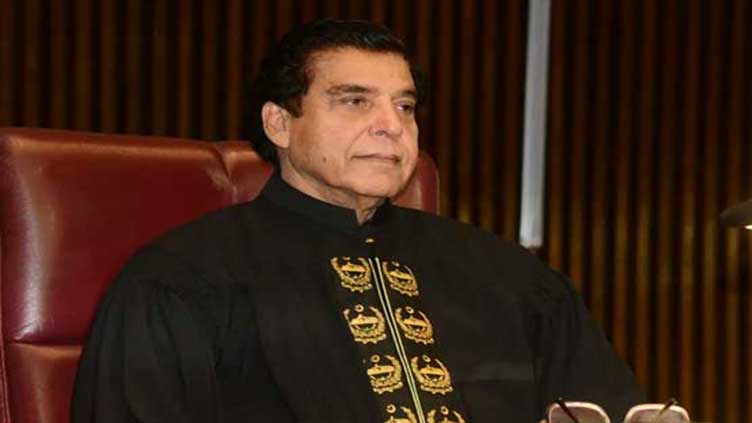 Pakistan
NA passes resolution condemning Imran Khan's statements against institutions
ISLAMABAD (Dunya News) – National Assembly of Pakistan on Monday has passed a resolution against Pakistan Tehreek e Insaaf Chairman Imran Khan condemning his statements against institutions.

A meeting of the National Assembly was held under the chairmanship of Speaker of National Assembly Raja Pervez Ashraf and during the meeting, PML-N leader and Minister for Parliamentary Affairs Murtaza Javed Abbasi presented a resolution in the National Assembly condemning the statements made by Imran Khan against the institutions.

The resolution presented by Murtaza Javed Abbasi was passed unanimously.
According to the text of the resolution, the House strongly condemns the statement of PTI Chairman and former Prime Minister Imran Khan. The former Prime Minister has tried to distort the historical facts in his statement and attempts were also made to give the impression that institutions were conspiring against their country.
According to the resolution, Pakistan s armed forces are protecting the country s borders without fear and danger and any attempt to discredit the state institution for political purposes is against the national interest.

Khawaja Asif vows to defend state institutions at all costs
Federal Minister for Defence Minister Khawaja Muhammad Asif has expressed the resolve to defend the state institutions at all costs and nobody will be allowed to malign them.
Speaking on the floor of the House, he said former Prime Minister Imran Khan is using inappropriate language against the armed forces and other constitutional institutions, which is condemnable. He said the armed forces of Pakistan are the guarantors of country's security, while Imran Khan is trying to create differences among the state institutions. He said Imran Khan has become a security risk.
The Defence Minister said Imran Khan has nothing good on his credit to convince the people to support him. He said the former Prime Minister is making a futile effort to save his politics by using religious and anti-American cards.