Pakistan fully prepared to thwart enemy's aggression: President Alvi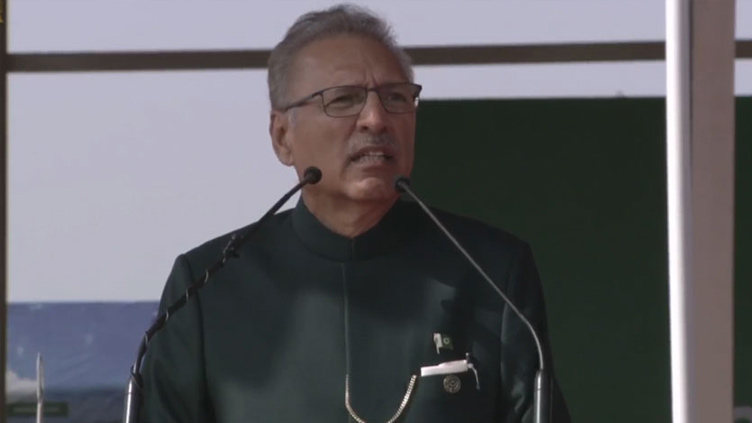 Pakistan
President emphasized need for national unity to face the challenges confronting Pakistan
ISLAMABAD (APP) - President Dr Arif Alvi on Wednesday said Pakistan would never compromise on its sovereignty and vowed that "any external aggression would be strongly dealt with".
"I want to make it clear to the enemy that Pakistan will never compromise on its sovereignty as the nation and armed forces are ready to thwart any aggression," he said in his address at the Pakistan Day event held here at the Parade Avenue, Shakarparian.
This year's annual event attained great significance as the foreign ministers of the 57-member Organization of Islamic Cooperation (OIC) witnessed the joint services parade, where Pakistan showcased its military prowess.
Prime Minister Imran Khan, cabinet members, diplomats, senior civil and military officials, and prominent figures who gained accolades for their services to Pakistan were present.
President Alvi said the expansionist designs of Pakistan's neighbouring country was a matter of concern for the security and stability of South Asia.
He mentioned India's illegal occupation in Jammu and Kashmir and urged the international community and the United Nations to stop the ongoing human rights violations.
Referring to the country's resolve against fighting extremism and terrorism, he said, "Pakistani nation has made immense sacrifices in wars and stood resilient against internal and external conspiracies."
He lauded the valour and courage of the country's armed forces and nation for making their homeland strong and prosperous.
Arif Alvi said the Pakistani nation and all institutions of the country supported the upholding of democracy in the country.
"We should always keep in view the saying of Quaid-e-Azam Muhammad Ali Jinnah to stand united as a nation and demonstrate faith and discipline within our ranks," he said.
The president felicitated the nation on the occasion of Pakistan Day and said the day was special in a way that it coincided with the 75th anniversary of the country's establishment.
He paid glowing tribute to the countrymen who laid their lives for the sovereignty of the country and contributed towards its stability.
"Being a strong and united nation, we vow to keep high the integrity and sovereignty of our motherland," he said.