Lahore blast: Who were three people that lost lives?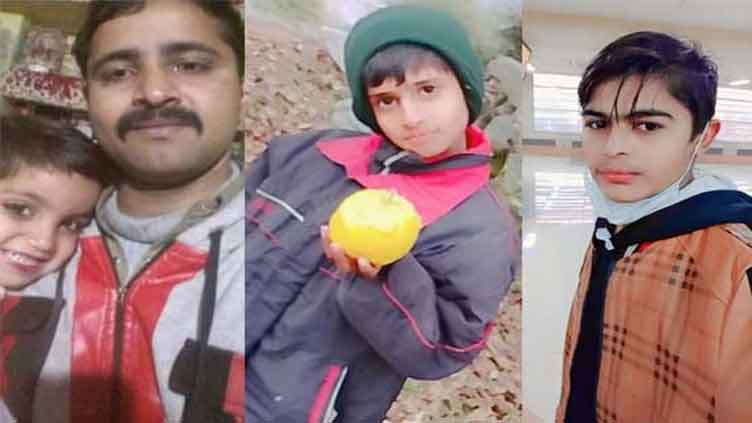 Pakistan
Lahore blast: Who were three people that lost lives?
LAHORE (Dunya News) – Dunya News on Thursday found out who were the three people that lost lives in Lahore blast that took place in Pan Mandi area of New Anarkali.
According to details, three people naming Ramzan, Absaar and Yasir lost lives in Lahore blast. Following are the details about all three individuals:

Nine-year-old Absaar belonged from Karachi
Absaar belonged from Korangi area of Karachi. Absaar s parents are residents of Muzaffarabad.
As per the victims, Absaar was living with his uncle Salman in Karachi who was also injured in the blast. Absaar s funeral prayers will be offered in Muzaffarabad.
Ramadan belongs to Ferozwala
Muhammad Ramzan who was killed in the blast, belonged to Ferozwala Tehsil of Sheikhupura.

According to the heirs of Ramzan, he had started working in a shop in Pathura one month ago. Ramzan had left home today after a two-day holiday. Among the mourners are five sisters, two brothers, a 4-year-old girl and his wife.
Yasir belongs to Rahim Yar Khan
Fifteen-year-old Yasir hails from Rahim Yar Khan s Khanpur Tehsil. Yasir s father Allah Ditta confirmed that Yasir used to make handbags on wages.
Yasir was the resident of Chak 21-P. Yasir has 4 brothers and one sister. More than two dozen people from the same area worked with Yasir to make bags. Yasir had gone to get food at the time of the blast.
Earlier today, a time-device blast in Pan Mandi area in New Anarkali bazar of Lahore killed three people and injured 29 others
According to details, the rescue teams reached spot of incident and shifted the injured to Mayo Hospital.
Windows of nearby shops and buildings were left shattered by the explosion and motorcycles damaged.
Police said that around 1.5 kilograms of explosives were used in the blast. It was further learnt that the explosives were placed on ground between motorcycles.
Preliminary report said that the blast took place at 1:40pm and razed a building and destroyed eight motorcycles.
Talking to media persons, DIG operations said that police teams are collecting evidence from the place of incident and soon the details of the blast will be confirmed.
Mayo Hospital officials said four people are in critical condition, with the doctors trying to save their lives. The medics have given first aid to other injured people.
Chief Minister of Punjab Sardar Usman Buzdar took notice of the blast and sought report from Inspector General (IG) Punjab
Moreover the the preliminary investigation report of the Lahore bomb blast was submitted to the Punjab Chief Minister (CM) Usman Buzdar.
As per the reports presented to Punjab CM, the blast exploded from a planted device. A 1.5 kg of explosive material was used in the blast. The blast took place in Lohari Chowk.
According to the initial reports, the blast damaged the building and eight motorcycles, injuring 29 people and killing three. The dead included Ramzan, Absaar and Yasir. The blast occurred at 1:40 PM and at 1:44 PM an unknown person made a call to convey that the blast had taken place in New Anarkali.
As per the reports, the administration including Lahore police reached immediately. Police, forensic and intelligence agencies are on the scene. CCTV cameras are being used to find out who planted the explosives, and the injured are being given the best medical care.
Immediately after the blast, an emergency was declared in all the hospitals across Lahore and medical aid is being provided to the injured. Some suspects have been arrested and are being investigated.