GB CM, delegate call on Usman Buzdar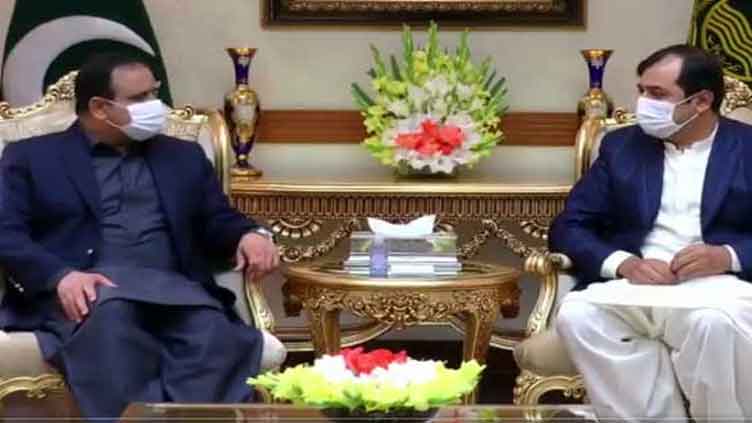 Pakistan
GB CM, delegate call on Usman Buzdar
LAHORE (Dunya News) – Gilgit-Baltistan Chief Minister (CM) Khalid Khurshid Khan along with a delegate called on Punjab CM Usman Buzdar on Monday.
During the meeting it was decided that Punjab government will extend all possible cooperation to the Gilgit-Baltistan government in introducing the digitalization to the health and land record sector.
Punjab CM Usman Buzdar said that the Government of Gilgit-Baltistan will be given full support for the establishment of a medical college. Punjab will assist in digitalization of land records and health in GB province as elder brother. The Punjab government will provide 15,000 metric tonnes of wheat to Gilgit-Baltistan.
The Punjab Government will continue its full support to improve public facilities in Gilgit-Baltistan. The Punjab Government has always provided technical and technical assistance to other provinces in various fields. The people of Gilgit are our brothers and sisters. We will continue to do everything possible for the development of Gilgit-Baltistan. I will visit Gilgit-Baltistan soon, the Punjab CM added.
The Chief Minister of Punjab and the Chief Minister of Gilgit-Baltistan strongly condemned the Indian oppression on the innocent Kashmiri people in occupied Jammu and Kashmir.
During the meeting Usman Buzdar said that we stand in solidarity with the people of Kashmir. No power in the world can separate the indelible bond between Pakistan and the people of Kashmir.
Paying homage to the services of Punjab CM for the development of GB province and its people, GB CM mentioned that the cooperation of the Punjab Government will promote brotherhood and solidarity between both the provinces.
Barrister Khalid Khurshid invited Punjab Chief Minister Usman Bazdar to visit Gilgit-Baltistan.