Main points of National Security Policy come to light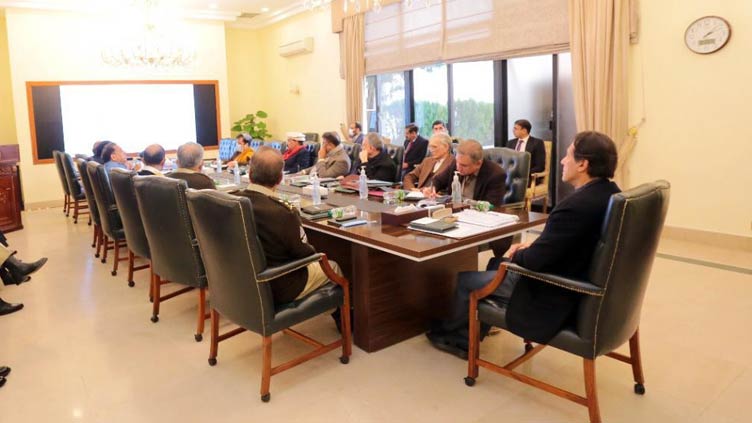 Pakistan
Govt decides to make over 100 pages of National Security Policy public
ISLAMABAD (Dunya News) – The main points of the National Security Policy have come to light as the Pakistan Tehreek-e-Insaf (PTI) government decided to make more than 100 pages of the policy public.
According to sources, Prime Minster Imran Khan will release 50-pages non-confidential policy points on Friday. The three main points of the policy include economy, military and human security.
Sources further said that economic security has been given a central position in the national security policy. For the first time in Pakistan, a comprehensive policy on national security has been formulated. The new security policy will be reviewed on an annual basis and the new government will have the power to change the policy.
Sources also said that the government will be bound to submit an implementation report to the National Security Committee every month.
In December last year, federal cabinet had approved the first ever comprehensive and consensus National Security Policy of Pakistan with special emphasis on economic strategy.
National Security Adviser Dr Moeed Yusuf said it is an umbrella document, which entails human security as well as population, health, climate, water, food, energy, and gender security. He said education has been clubbed with the economy.
Dr Moeed Yusuf said the process of formulating the NSP had begun in 2014 and this document has been approved after getting input from all civil and military institutions, including the private sector. He said Prime Minister Imran Khan will launch the public version of NSP in coming days.
Mooed Yusuf, in a series of tweet, termed it a truly historic achievement and said that a citizen-centric comprehensive National Security Policy with economic security at the core will now be pursued in earnest.
The Advisor said that this umbrella document will, overtime, help guide sectoral policies for the fulfillment of country's national security objectives.
Moeed Yusuf also thanked the civil and military leadership for all their support and input and added that the policy would not have seen the light of day without the Prime Minister's constant leadership and encouragement.
He also lauded the entire team of the National Security Division for their hard work and dedication over the years in bringing the policy to fruition.
The success of the policy will lie in its implementation for which a plan has been developed.