'Keep establishment away from such issues', DG ISPR responds to question on deal with Nawaz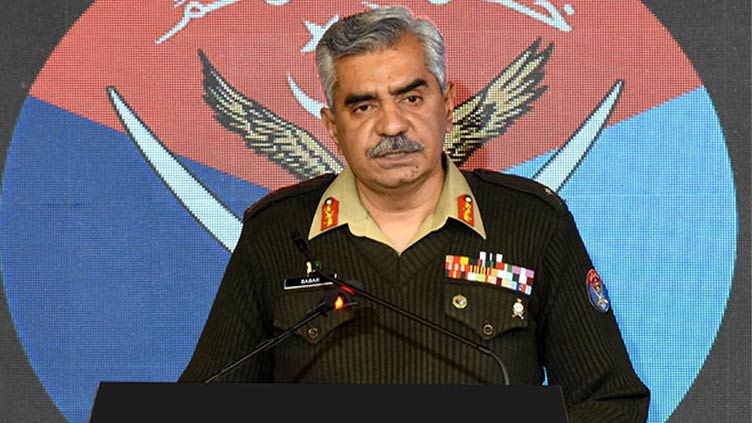 Pakistan
'Keep establishment away from such issues', DG ISPR responds to question on deal with Nawaz Sharif
RAWALPINDI (Dunya News) – Director General of Inter-Services Public Relations (ISPR) Major General Babar Iftikhar on Wednesday, while holding 2022's first press conference, termed the rumors about a deal with Pakistan Muslim League-Nawaz's (PML-N) self-exiled leader Nawaz Sharif as baseless, adding that if anyone is talking about a deal, please ask them who is doing it and what is the evidence of such a deal.
---
---
LoC situation
---
Addressing a presser in Rawalpindi, the DG told that the people living around the Line of Control (LoC) took a sigh of relief after February 2021 agreement with India. The area "remained peaceful throughout the year" with bringing positive change in the lives of the locals, he added.
The DG said that on the LoC, India committed false propaganda about infiltration and carried out fake encounter in Keran Valley, putting blame on Pakistan. They recently staged a fake encounter in Neelum Valley in Keran sector and killed an innocent Kashmiri and then blamed us. In this particular incident, the Indian media ran pictures of a terrorist named Shabbir. He is not only alive but is at his home in Sharda, he told.
---
Occupied Kashmir under worst siege since August 2019
---
Highlighting the Kashmir dispute, Major General Babar Iftikhar said that the valley is under worst siege since August 2019 as Indian forces are martyring innocent people. We pay rich tribute to the struggle of Kashmiris for Right to Self-Determination movement and pledged to stand with them at every level, he added.
He said the truth is that India has already tried to externalise Kashmir's indigenous freedom struggle, adding, India is implementing "systematic demographic changes" in the occupied valley.
He called the false allegations leveled by Indian authorities as political agenda to divert the attention of international community from the atrocities in Indian Illegally Occupied Jammu and Kashmir (IIOJK), adding that India is internally facing the challenge of religious extremism.
---
Pak-Afghan ties
---
Talking about the Pakistan-Afghanistan relations, the DG said both countries enjoy strong harmony and brotherhood. He also expressed fear that the worsening situation in Afghanistan can further fuel severe humanitarian crisis.
The DG ISPR said that the Pak-Afghan border fencing was 94 percent complete. "We are totally focused, and under the western border management regime, the work that is underway will be completed in some time," he assured.
---
Propaganda against institutions failed
---
The DG ISPR exposed a campaign against national institution, calling it as an attempt to damage people's trust. "We are aware of these efforts and their various linkages," he said.
---
---
Major General Babar Iftikhar said, "Those who spew half-truths, fake news and false propaganda to target institutions and damage the country, have failed and will fail."
---
Ceasefire with TTP ended on Dec 9
---
The DG said that talks with the outlawed Tehreek-e-Taliban Pakistan (TTP) are on hold but the operations are underway. The ceasefire ended on Dec 9. The ceasefire was a confidence-building measure taken ahead of talks with these violent non-state actors on the request of the current afghan government, he told.

The talks with the banned outfit were carried out on the request of new Afghan government. There was a requirement for the Afghan government that TTP should not be using their soil against us. The Afghan authorities said that they would bring the TTP to the table and make them accept what Pakistan wants, he stated.
---
Performance of security forces
---
Shedding light on the ongoing security situation of Pakistan, Major General Babar Iftikhar said that security forces of the country have rooted out all the terrorist outfits working to sabotage the national peace. Normalcy is being returned to the areas where army had conducted operations, he stated.
He told that the intelligence agencies have issued 890 threat alerts on the basis of which 70 percent incidents were averted. Pakistan Army launched successful operation in North Waziristan in 2021, he told.
In 2021, 248 troops were martyred. We salute them and their families. More than 100,000 ammunition were also seized. Under the National Action Plan (NAP), operation was initiated against terrorists, he informed.
Looking ahead, the army official said: "2022 also marks 75 years of our independence. We have faced all challenges and we have to play our part in making the country prosperous."
---
Development projects
---
Referring to the ongoing development projects, the DG ISPR said that 199 new projects have been launched in Balochistan. Hospitals, markets, educational institutions have been established in tribal districts in 2021, he told.

The DG asserted, "We ensure smooth working on country's progress despite challenges as foolproof security is being provided for all the projects."
He said that the process of fencing the border between Pakistan and Iran has been completed by 70 percent. The fence will provide protection to the masses on both sides. Several soldiers of armed forces have rendered sacrifices in this cause, he went on to say.