Abandoning Afghanistan could take us back to unstable situation, warns PM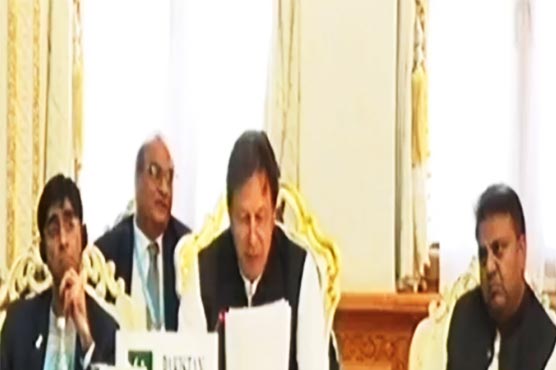 PM urges Int'l community to approach new reality in Afghanistan with new perspective
ISLAMABAD (Dunya news) – Prime Minister (PM) Imran Khan has warned the international community that abandoning Afghanistan could take us back to an unstable situation.
Addressing the joint session of the SCO and Collective Security Treaty Organization on Afghanistan in Dushanbe, the prime minister urged the international community to approach the new reality in Afghanistan with a new perspective based on a realistic assessment and pragmatic approach.
He said our core collective interest must be to help stabilize the security situation and prevent renewed conflict and mass exodus. He warned that abandoning Afghanistan could take us back to an unstable situation, resulting in civil strife, negative spillover effect on neighboring countries, outflow of refugees, rise in terror incidents, drug trafficking and transnational organized crimes. Engagement, therefore, is the only way forward.
Imran Khan also asked the Taliban to honor their commitments. The promise of an inclusive political structure should be fulfilled. At the same time, he said, attempts to demonize the Taliban and fuel internal tensions should be rejected. Such a myopic and unwise approach being adopted by some will only compound the challenges, not resolve them.
The Prime Minister said the international community must reach out to reaffirm their support and solidarity with the Afghan people at this critical juncture. Sustained humanitarian assistance and economic support will save lives and underpin stability.
He said allowing Afghanistan s frozen assets to be used for the welfare of the Afghan people will also be a step in the right direction.
The Prime Minister said Pakistan has kept its borders open to facilitate regular movement and let bilateral as well as transit trade flow. We have dispatched several plane loads of food and medicines to help address the humanitarian needs of Afghans.
Imran Khan said Pakistan remains firmly committed to a stable, sovereign and prosperous Afghanistan, at peace with itself and its neighbors. He said the regional countries should work in tandem to assist Afghanistan on its way to peace, stability and prosperity.