Published On 30 August,2021 12:21 pm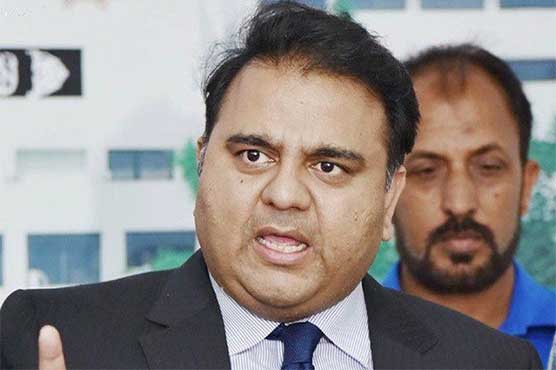 PDM's Karachi rally was actually against PPP: Fawad Ch
ISLAMABAD (Dunya News) - Minister for Information and Broadcasting Chaudhry Fawad Hussain on Sunday said that Pakistan Democratic Movement (PDM) public meeting in Karachi was devoid on ant power and termed it only a show, Dunya News reported.
Commenting on the PDM public gathering in Karachi, Fawad Chaudhry said that we have not seen such an incompetent opposition in the entire history of the country. They will continue to carry protest banners for the next seven years.
Minister for Information and Broadcasting urged Jamiat Ulema-e-Islam-Fazl (JUI) chief Maulana Fazlur Rehman not to further disgrace himself to satisfy his political ego.
Fawad Chaudhary said that the PDM s Karachi rally was actually against Pakistan People's Party (PPP).
He further said that in the backdrop of coronavirus epidemic, it was reprehensible to flout the law and standard operating procedures (SOPs) in the form of holding such public meetings.
Fawad Chaudhary said that the hereditary families who have been in power for the past three decades are responsible for the turmoil in Karachi and the misery in Sindh.
Lashing out at PML-N president Shahbaz Sharif, the Federal Minister for Information said that the Nawaz era slogan "Lion ate flour" is fresh in the minds of the people and added that the current inflation in the country is because your elder brother Nawaz Sharif and his two sons, your son and son-in-law fled to London after plundering country s resources.