Published On 28 August,2021 09:27 pm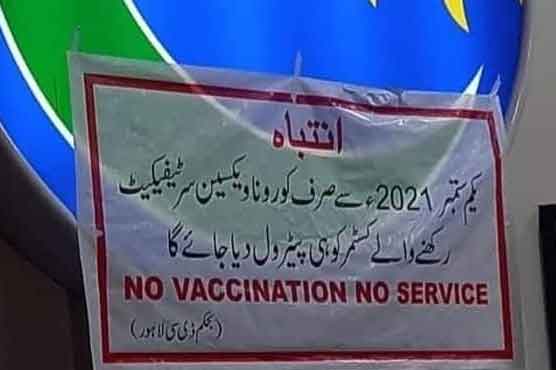 Lahore commissioner directs to set up temporary vaccination centers at major petrol pumps
LAHORE (Dunya News) – After the fourth wave of the COVID-19, efforts have been intensified to vaccinate every citizen to prevent COVID-19 as the petroleum association announced that unvaccinated people will not be given petrol.
A major decision has been taken to ensure 'no vaccine, no petrol', the sale of petroleum products has been attached with vaccination certificates. The people, who will show vaccination certificates, will only get petrol now.
In this regard, a delegation led by President Petroleum Dealers Association president Irfan Elahi called on Lahore Commissioner Captain (retd) Muhammad Usman.
After the assurance of Pakistan Petroleum Dealers Association, the Lahore commissioner also directed to set up temporary vaccination centers at major petrol pumps.
The association announced that only those who show the vaccine card will be given petrol. Capt (retd) Muhammad Usman said that those citizens who do not get vaccinated till the deadline will be severely punished.
The district administration has laid down important conditions for the supply of petrol. From September 1, those who have not been vaccinated will not get petrol. Banners were also put up at various petrol pumps in the provincial capital.