Published On 24 August,2021 06:36 pm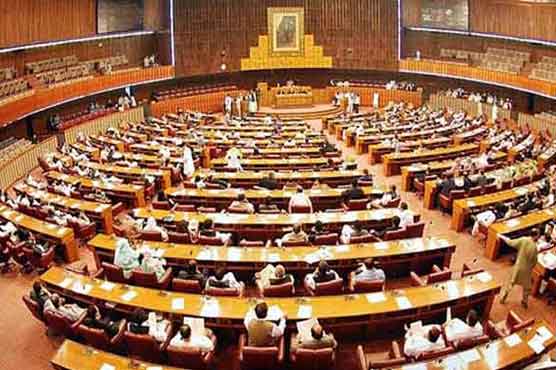 Chaudhry said an attempt was being made to deprive overseas Pakistanis of their right to vote.
ISLAMABAD (Dunya News) – Federal cabinet on Tuesday approved the appointment of Dr Muhammad Ashfaq as new chairman of the Federal Board of Revenue (FBR).
Addressing a press conference in Islamabad on Tuesday, Federal Minister for Information and Broadcasting Fawad Chaudhry said that remittances have improved the economy of Pakistan and will provide electricity and gas to the industry at cheaper rates. Inflation continues to decline.
He said that the cabinet also approved an ordinance that will make it mandatory for members of parliament to be sworn in within 60 days of their election.
The minister told the media that Minister for Science and Technology Shibli Faraz and Prime Minister's Adviser on Parliamentary Affairs Babar Awan gave a detailed briefing on Internet voting and Electronic Voting Machines to the Cabinet.
He said the government had been in contact with the opposition on EVMs and granting voting right to overseas Pakistanis.
Stressing for voting right to the expats, he said they had been massively contributing to the national economy by sending record remittances, which reflected that they had full trust in the leadership of Prime Minister Imran Khan.
He said it was on record that all elections in the country were marred by accusations of poll rigging in the past.
Terming PML-N as an obstacle in carrying out electoral reforms, he said the party never came to the power without rigging.
He alleged that opposition parties were conspiring to deprive over 9 million Pakistani expatriates from the right of vote, adding steps being taken by the government for transparent elections, were in line with the judicial commission recommendations formed after the PTI's demand for opening of four constituencies after 2013 elections.
The minister said the Cabinet also discussed specific incidents of harassment of women and decided that guidance by intellectuals and civil society would be sought through holding high level consultative process to decide a way forward.
He said the Cabinet was given a briefing on the state of economy and economic indicators and added Pakistan's economy was stabilizing due to remittances (foreign exchange) of overseas Pakistanis.
He said that corona virus outbreak has put additional pressure on Khyber Pakhtunkhwa and Punjab health sectors. He said about 70 per cent oxygen was being used for corona virus patients and if the situation persisted, oxygen supply to industrial sector would be suspended to ensure its use for medical purposes.
He said that Dr Muhammad Ashfaq has been appointed as the new chairman of FBR.
He said that the cabinet was informed that economic indicators were positive, exports had increased while inflation had shown downward trend during the past three months.
He said that in the international market, prices of edible items had increased but they had stabilised in Pakistan.
He said that the cabinet accorded approval to a pending Ordinance under which those elected members of the assemblies, not taking oath within 60 days after election, would lose their seat.
He said that cabinet gave approval to prices of 37 medicines now being produced in Pakistan. He said that prices of 13 medicines were marginally increased to discourage their back marketing.