Pakistan genuinely wants a peaceful and stable Afghanistan: British army chief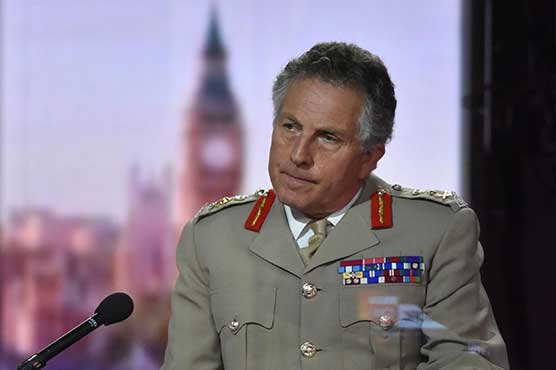 General Carter said COAS Gen Bajwa is genuine when he says that he wants a stable Afghanistan
LONDON (Dunya News) – Chief of the British Armed Forces General Sir Nicholas Carter has said that Chief of Army Staff (COAS) General Qamar Bajwa is genuine when he says that wants a stable and moderate Afghanistan.
In an interview with British Broadcast Company, the Head of British Army said that Pakistan genuinely wants a peaceful and stable Afghanistan.
"I am in no doubt that my opposite number in Pakistan General Bajwa is very genuine when he says that he wants a stable & moderate Afghanistan", he said.
To a question regarding the alleged safe havens of terrorists and the people of the Haqqani network in Pakistan, General Sir Nicholas Carter said Pakistan has lived with its challenges and hosts more than 3.5 million refugees on its soil.
General Carter further said that with so many people, it is hard to control who is there amongst them.
The British army head said that Pakistan has now built a fence along the border and keeping a strict eye on the cross-border movement.
He said British forces were currently working with the Taliban in Afghanistan and are providing security at Kabul Airport and keeping the central part of the city calm. "The Taliban are not saying anything to people who want to leave the country," he said and added they are behaving in a reasonable way at the moment.
Earlier, the United States also expressed its desire for Pakistan and China to assist us in reaching a political settlement between the parties in Afghanistan.
State Department spokesman Ned Price said the United States wants all neighboring countries to play their part in stabilizing Afghanistan. He said Biden administration is in contact with all of Afghanistan s neighbors for peace, and we have called on all of Afghanistan s neighbors, especially Pakistan and China, to help us build stability, security and a political settlement in Afghanistan, adding that it is in everyone s interest.
"Whether it s Pakistan or China or countries that have had a role in Afghanistan, we ve had constructive dialogue with all of them, although it s clear when it comes to China," the State Department spokesman said.