Published On 20 August,2021 08:37 pm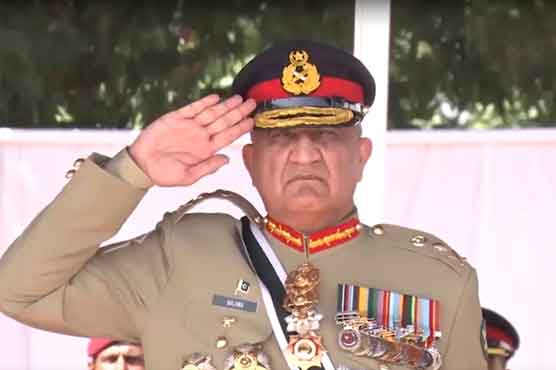 Pakistan won't remain silent on attempts of criticism: COAS
RAWALPINDI (Dunya News) - Chief of Army Staff (COAS), General Qamar Javed Bajwa has said that Pakistan cannot remain silent on attempts of criticism, adding the conspirators behind these attempts are the ones who also stand in the way of regional peace.
According to the Inter-Services Public Relations (ISPR), Army Chief visited the Pakistan Military Academy Kakul and attended a flag ceremony of the 4th Pakistan Battalion as a chief guest.
Addressing the ceremony, the Army Chief said that this day is a milestone in the development of a great institution like the Military Academy. The Pakistan Military Academy is one of the best institutions in the world. The commitment to dedicate oneself to homeland is a symbol of fear for enemies, he added.
General Qamar Javed Bajwa said that despite the difficulties, Pakistan is a strong, developing country in the world, the month of August reminds us of the eternal sacrifices for freedom.
He said our hardworking youth are our pride and capital. In all challenges, the principles of faith, unity and discipline are the beacon.
The Army Chief said that no power in the world can harm a united nation in any way. He said despite economic and other difficulties, Pakistan fought hard against all challenges and emerged stronger after each challenge. We overcame terrorism and defended the country s borders, he added.
General Qamar Javed Bajwa said that Pakistan showed excellent strategy despite limited resources against coronavirus and locust attack adding that we as a nation showed discipline and unity.
He said that Pakistan has paid a heavy price for instability in Afghanistan and despite economic difficulties, Pakistan has sheltered more than 3 million Afghans over the course of four decades. The idea of a free and peaceful region is being held hostage by extremist thinking in our neighborhood, said COAS.
The army chief said that he expects that Afghan soil will not be used against any other country, including the Taliban to fulfill promises made to the international community on women s and human rights.
COAS said that Peace in Afghanistan is essential for the region, especially for the people of Afghanistan, adding we will continue to play our part in bringing peace and stability to Afghanistan.
Talking about the Indian Occupied Kashmir, the Army Chief said that we have always stood by Kashmir and will continue to do so.
"I assure you that the hearts of Pakistanis beat with Kashmiri brothers", said COAS, adding that the people of the occupied territory are the victims of the worst state terrorism and exploitation. In this month of independence, we cannot forget our Kashmiri brothers.