Pakistan will not take unilateral decision regarding Afghanistan: Fawad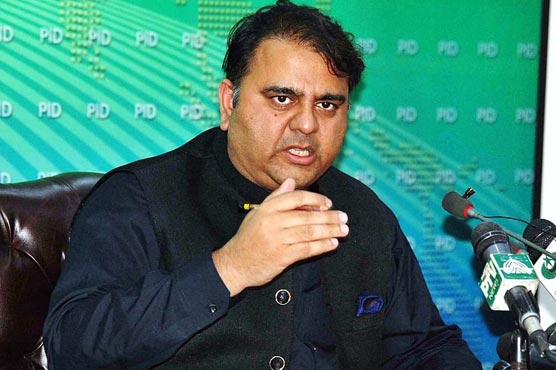 Fawad Chauhdry says Pakistan stands by decision of world community
ISLAMABAD (Dunya News) – Just a day after the fall of Kabul, Minister for Information Fawad Chaudhry on Monday said that Pakistan would not take unilateral decision regarding Afghanistan and its future government.
In an informal talk with journalists about Pakistan's plans regarding fast developing changes in the Afghanistan, the information minister said that Islamabad stands by the decision of the world community and would consult international community before taking any decision.
"We will take steps in this regard in consultation with the international community," Fawad Chaudhry said, while responding to a question if Pakistan was ready to recognise the new Afghan government.
"Our stance on Afghanistan is clear but nothing is certain there due to fast changing developments. We have asked Ghani that he could not run the government alone and we again urged Taliban the same," the minister mentioned.
---
Also read: Afghan soil should not be used against any country: NSC
---
On Monday, Foreign Minister Shah Mahmood Qureshi said that Pakistan always demonstrated a constructive role in Afghanistan which included its efforts in facilitating an Afghan-led and Afghan-owned peace process besides, many other economic and humanitarian efforts.
"Our mission in Kabul is working tirelessly to issue visas, to evacuate diplomats, NGO workers, media personnel etc.;" the foreign minister on his twitter handle posted while regarding the latest situation in Afghanistan as the foreigners and locals scrambled to leave Kabul airport.
The foreign minister, in a related tweet said, it was unfortunate that Pakistan was, once again, denied the opportunity to speak at the United Nations Security Council meeting held on Monday over Afghanistan.
"After Afghanistan, it is undeniably Pakistan that has been a victim of decades of this conflict," he further posted.
---
Taliban announce general amnesty for govt officials, urges return to work: statement
---
The Taliban declared an "amnesty" across Afghanistan and urged women to join its government Tuesday, trying to calm nerves across a tense capital city that only the day before saw chaos at its airport as people tried to flee their rule.
The comments by Enamullah Samangani, a member of the Taliban's cultural commission, represent the first comments on governance from a federal level across the country after their blitz across the country.
While there were no major reports of abuses or fighting in Kabul, many residents have stayed home and remain fearful after the insurgents' takeover saw prisons emptied and armories looted. Older generations remember their ultraconservative Islamic views, which included stonings, amputations and public executions during their rule before the U.S-led invasion that followed the Sept. 11, 2001 terror attacks.
"The Islamic Emirate doesn't want women to be victims" Samangani said, using the militants' term for Afghanistan. "They should be in government structure according to Shariah law."
He added: "The structure of government is not fully clear, but based on experience, there should be a fully Islamic leadership and all sides should join."