Published On 14 August,2021 07:37 pm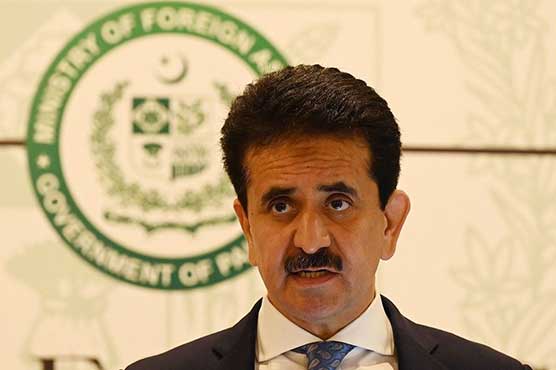 Distorting history and stoking communalism was the special forte of the RSS-BJP regime
ISLAMABAD (Dunya News) – Foreign Office spokesperson Zahid hafeez Chaudhri on Saturday while commenting on Indian Prime Minister Narendra Modi's tweet on 1947 events said it was shameful to one-sidedly invoke the tragic events and mass migration in wake of Independence in 1947.
Responding to questions regarding the Indian Prime Minister's remarks, the spokesperson said no modern state was so much in contradiction with itself as the Indian state – the so-called "largest democracy".
"It is shameful that the practitioners of "Hindutva" ideology, and purveyors of hate and violence, would so hypocritically and one-sidedly invoke the tragic events and mass migration that occurred in the wake of Independence in 1947," he commented.
The spokesperson said distorting history and stoking communalism was the special forte of the RSS-BJP regime. Far from doing anything to heal old wounds, they would go to any extent to sow further dissensions for electoral gains, he maintained.
"We are sure that the people of goodwill in India would completely reject this political and publicity stunt that only seeks to divide," the spokesperson added.
---
Dasu terrorist attack
---
Earlier, the foreign office spokesperson had categorically rejected the 'absurd remarks' by the Kulbhushan Jadhav, denying its involvement in the recent Dasu terrorist attack.
"Fully exposed, India typically resorts to sophistry, obfuscation and re-fabrication. Bland denials and regurgitation of a false narrative, however, will not change facts," foreign office spokesperson said.
Pakistan had repeatedly presented irrefutable evidence of India's active planning, promoting, aiding, abetting, financing and execution of terrorist activities in Pakistan, the spokesperson said.
Pakistan had presented a detailed dossier to the international community last year. Recently, it also presented evidence on India's involvement in the Lahore attack.
The most familiar and undeniable face of India's state-sponsorship of terrorism against Pakistan was commander Kulbhushan Jadhav — caught red-handed in March 2016, it was added.
"We reiterate our call on India to abjure the use of state-terrorism as an instrument of policy. Pakistan will continue to resolutely oppose Indian machinations imperiling regional peace and security," the spokesperson said.