Kashmir issue should be resolved in accordance with UN resolutions: Naval Chief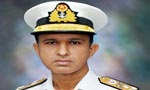 Naval Chief expresses solidarity with Kashmiri brethren
ISLAMABAD (Web Desk) - Chief of the Naval Staff, Admiral Muhammad Amjad Khan Niazi Thursday said that Kashmir issue should be resolved in accordance with UN resolutions and wishes of the people of IIOJ&K.
In a statement Naval Chief expressed solidarity with the people of Kashmir on Youm-e-Istehsal.
"The sacrifices of the Kashmiri people will not go in vain", said the Naval Chief in a tweet shared by DGPR of Pakistan Navy.
— DGPR (Navy) (@dgprPaknavy) August 5, 2021