Published On 31 July,2021 09:33 pm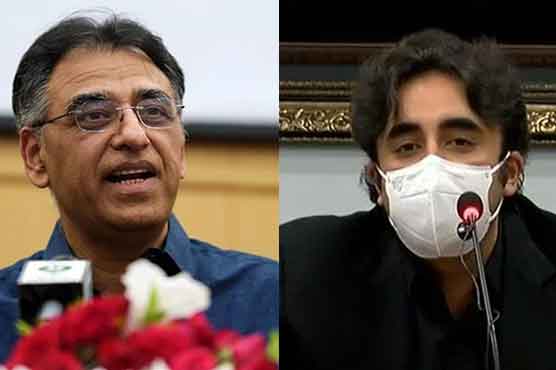 Obviously subject you do not understand very well. Do not politicize COVID response
ISLAMABAD (Dunya News) - Planning and Development Minister Asad Umar has asked Pakistan Peoples Party (PPP) Chairman to refrain from politicizing Covid-19 issue while reacting to Bilawal Bhutto's statement.
The minister s reply came after Bilawal Bhutto defended the Sindh government's decision of imposing a lockdown in the province to curb the spread of coronavirus and said Imran Khan and his ministers will be responsible if Karachi faces situation similar to India due to Coronavirus.
In a series of tweet, Asad Umar hits out at Bilawal Bhutto and said, "Remember Mr zardari last year you told me in a meeting that you believed in the Imperial study which had predicted 78 thousand deaths in Pakistan in a single day. This is obviously a subject that you do not understand very well. Please do not politicize the COVID response."
— Asad Umar (@Asad_Umar) July 31, 2021
"Bilawal Zardari says if what happened in India happens in Karachi PM responsible. Mr zardari what you wanted. Lock down lock down lockdown. Was done in India and the world saw the devastation. Crores thrown into poverty from which they have still not recovered. Economy shrank 7 per cent," the minister tweeted.
— Asad Umar (@Asad_Umar) July 31, 2021
In another tweet, he further elaborated, "Strategy based on PMIK vision of protecting both lives and livelihoods, produced dramatically superior results. Indian economy had the worst year since independence and Pakistan economy grew 4 per cent. At the same time Indian per capita COVID mortality is three times higher than Pakistan."
— Asad Umar (@Asad_Umar) July 31, 2021
Earlier today, NCOC Chairman Asad Umar said that he hoped that the Sindh government would hold detailed consultations on issues related to lockdown in the NCOC meeting tomorrow.
On his twitter handler, the minister wrote that the decisions taken regarding the closure of industry and transport in Sindh need to be reconsidered.
"We shared our views yesterday and today, on the basis of which a partial change had been made, which is welcome but still needs further amendments," minister tweeted.
Asad Umar said he hopes that the Sindh government would hold a detailed consultation on all the issues at the NCOC meeting tomorrow hoping that a strategy would be formulated after consultation in which all the pillars of the state could work together to protect both public health and livelihood.
On the other hand, Bilawal Bhutto Zardari said that Imran Khan and his ministers would be responsible if Karachi faces situation similar to India due to Coronavirus.
Talking to media, Bilawal Bhutto said that Delta variant is spreading rapidly in Karachi and they [federal govt] knew that Sindh government will impose lockdown yet they are opposing the decision.
He said that coronavirus positive ratio has crossed 30% in Karachi. The federal government is calling us ignorant instead of supporting us, he added.
He said that the government wants to politicize everything including lockdown in Sindh. The federal government does nothing and does not allow anyone else to do anything. He said that the government should have remained silent if they cannot help on the issue adding that the Sindh government is taking steps to save the lives of the people.
The PPP chairman said that efforts have to be made to get rid of incompetent, illegitimate government, PPP has always raised its voice for transparent elections, interference of Establishment in elections must be stopped adding that the decision in elections should be taken only by the people of Pakistan.
Bilawal alleged that Azad Kashmir minister distributed money and the Election Commission could not do anything, contesting the election of a former Taliban official is tantamount to giving India a chance, they are trying to form a government in Azad Kashmir on the basis of money and violence.