Published On 31 July,2021 05:09 pm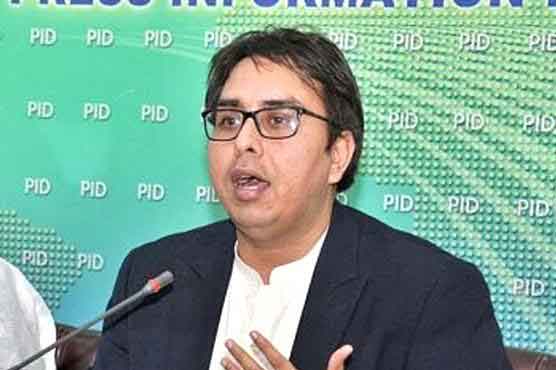 If Sindh govt follow SOPs, adopt smart lockdown, then they do not have to need to impose lockdown
LAHORE (Web Desk) – Special Assistant to Prime Minister on Political Affairs Dr Shahbaz Gill has said that now the Pakistan Peoples' Party (PPP) is pursuing a plan to destroy the economy of the entire country.
It is pertinent to mention here that after lockdown in Sindh, the federal government is severely criticizing the step taken by the provincial government.
After Federal Minister for Information Fawad Chaudhry, Dr Shahbaz Gill also, lambasting at the Sindh government, took to twitter and said that the PPP was pursuing a plan to destroy the country s economy. He said that poverty is on the rise in Sindh but on the other hand looting is rampant.
The special assistant further said that they made a plan to shut the stove of the poor by imposing lockdown. "From the first day, they did not pay attention to the SOPs. If you follow SOPs and adopt strategy of smart lockdown, then you do not have to impose lockdown," he maintained.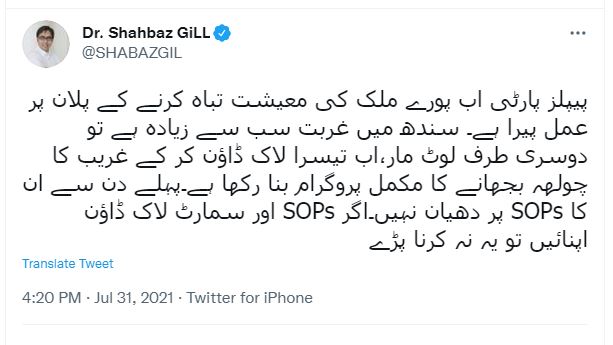 Earlier, Fawad Chaudhry had said that complete lockdown would not be allowed in Sindh. He said that the policy of the federal government regarding complete lockdown was clear. The Supreme Court had also remarked that the provinces cannot make individual decisions in this regard.
In his statement on the complete lockdown decision of the Sindh government, he said that under Article 151, Pakistan is a single market, the port of Karachi is the lifeline of Pakistan s economy and such a step cannot be allowed.
Fawad Chaudhry said that no option of complete lockdown was available to any province, the policy regarding Covid-19 is issued by the federation and NCOC, and the provinces are bound to implement it.
He said that Pakistan had fought hard against Coronavirus, so far we have managed to save human lives and the country s economy is on its feet.
The minister said that Prime Minister Imran Khan was of the view that the complete lockdown would severely affect the working class, daily wage earners.
He said that if the Sindh government had implemented the SOPs, the situation in Karachi would not have gone out of control.
Sindh had been given a clear message that individual decisions cannot be made, the NCOC guidelines must be implemented, he added.