Sheikh Rashid hopeful of PTI's victory in AJK elections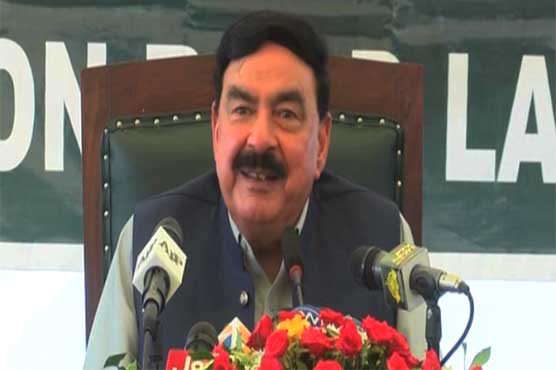 Will announce PTI win in the AJK election from Lal Haveli: Sheikh Rashid
LAHORE (Dunya News) – Federal Interior Minister Sheikh Rashid Ahmed on Saturday expressed hoped that Pakistan Tehreek-e-Insaf (PTI) will emerge victorious in Azad Kashmir elections.
Talking to media persons, Interior Minister said that opposition parties are crying foul even before votes are casted and added that he will announce PTI win in the AJK election from Lal Haveli.
Responding to reports of meeting between Nawaz Sharif and Afghan NSA, Sheikh Rashid said that as per social media, PML-N supremo met with 'RAW' agents.
He further said that he does not see any future of Nawaz Sharif party in politics and inappropriate language of Maryam Nawaz will also destroy her political career.
The minister further said that Nawaz Sharif and his family looted national exchequer. He, while urging Nawaz Sharif to return to country, assured full security to him on his return.
Sheikh Rashid further said that Pakistan stands with Kashmiris in their fight for freedom and Prime Minister Imran Khan fought their case in best possible manner while Fazlur Rehman failed to do anything substantial for the cause.