Published On 15 June,2021 06:00 pm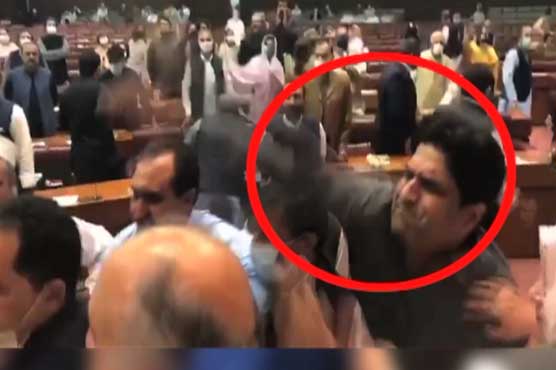 NA Speaker Asad Qaiser urged treasury and opposition benches to show restraint
ISLAMABAD (Dunya News) – The National Assembly witnessed a noisy session on Tuesday as Ali Nawaz Awan, a member of the ruling Pakistan Tehreek-e-Insaf (PTI), hit Pakistan Muslim League-Nawaz (PML-N) leader Sheikh Rohail Asghar with a book on the face after heated exchange of words.
As soon as Leader of the Opposition in National Assembly Shehbaz Sharif begins his speech in the National Assembly, there was a commotion from the government benches in the House and the government members stood on their seats.
Federal ministers Shah Mahmood Qureshi and Fawad Chaudhry were also among the sloganeers. On this occasion, PML-N members formed a fence around the opposition leader.
NA Speaker Asad Qaiser urged treasury and opposition benches to show restraint but failed to control the situation, after which he had to adjourn the session for 20 minutes.
PML-N leader Shahid Khaqan Abbasi said that opposition leader Shehbaz Sharif's speech has enraged the treasury benches. Declaring the budget documents as a bundle of lies, he said that the targets were set on the basis of 12 to 15 per cent inflation.
On the other hand, Foreign Minister Shah Mahmood Qureshi warned the opposition members and said that criticism of the budget is the right of the opposition but in a polite manner.