Jahangir Tareen demands to provide justice instead of doing politics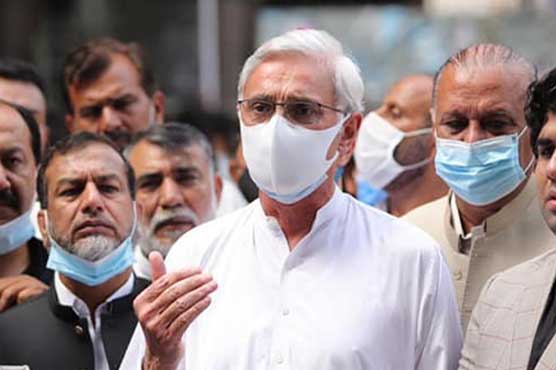 Jahangir Tareen demands to provide justice instead of doing politics
LAHORE (Dunya News) – Pakistan Tehreek-e-Insaf (PTI) leader Jahangir Tareen on Monday has demanded the concerned authorities to provide justice instead of doing politics.

Talking to media in Lahore, the PTI leader clarified that he has not met with any representative of the federal government. He told that the investigation of Barrister Ali Zafar regarding sugar scandal has been completed but the report has not been made public yet.

Will comprehensively talk on the issue soon, he added.
On the other hand, interim bail of PTI leader Jahangir Tareen and his son Ali Tareen in money laundering and sugar scandal cases has been extended till June 11.
The sessions court heard the bail pleas of Jahangir Tareen and Ali Tareen during which, Judge Hamid Hussain said that appointments and transfers have been made in recent days and new judges will take charge today, therefore, we are adjourning the hearing without any proceedings.
The court asked the Federal Investigation Agency (FIA) about why the inquiry into the matter has not been completed yet? If your agency does not want to investigate, let us know, the judge further said.