Published On 29 May,2021 07:50 pm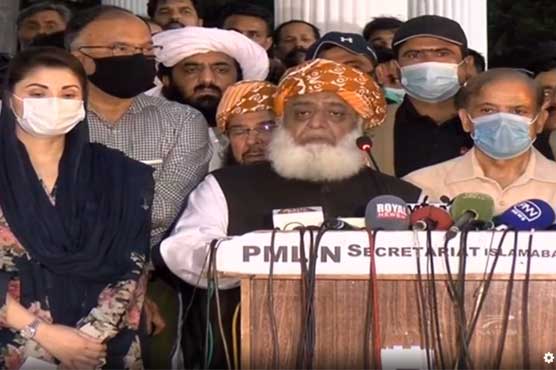 PDM announces restart of anti-government rallies
ISLAMABAD (Dunya News) - Pakistan Democratic Movement (PDM) announced on Saturday that it will reboot the movement with more anti-government rallies and that it will work alongside Pakistan People's Party (PPP) and Awami National Party (ANP) in the Parliament.
This was announced after today's PDM meeting at PML-N's Islamabad Secretariat, which was chaired by PDM head Maulana Fazlur Rehman. The meeting was also attended by Shehbaz Sharif, Maryam Nawaz, Shahid Khaqan Abbasi, Ahsan Iqbal, Aftab Sherpao, Mahmood Khan Achakzai, Mir Kabeer Shahi and Tahir Bizenjo.
The meeting discussed the political situation in the country and the future strategy of PDM, and also discussed issues related to the return of PPP and ANP into PDM.
It was decided during the meeting that PDM will join hands with PPP and ANP in the parliament and the opposition parties will jointly oppose the budget session in order to expose the government's falsified figures.
Talking to media after the meeting, Maulana Fazlur Rehman said that the present government is unelected and unable to face any emerging challenge.
He said that PDM plans to hold large protest rallies for mobilization of the public, with a rally on July 4 in Swat, July 29 in Karachi and a grand protest in Islamabad on August 14 to celebrate Independence Day.
"It will be an expression of solidarity with the people of Pakistan", said Fazlur Rehman.
Talking about the regional situation, he said that the circumstances were alarming and called for a meeting of the Parliament on the situation in Afghanistan.
"There are rumors that Pakistan will provide airbase to American planes. Can Pakistan face the possible difficulties that may arise", asked Fazlur Rehman while demanding an in-camera session of the Parliament to apprise the House of the country's defense situation.