Published On 28 May,2021 11:19 pm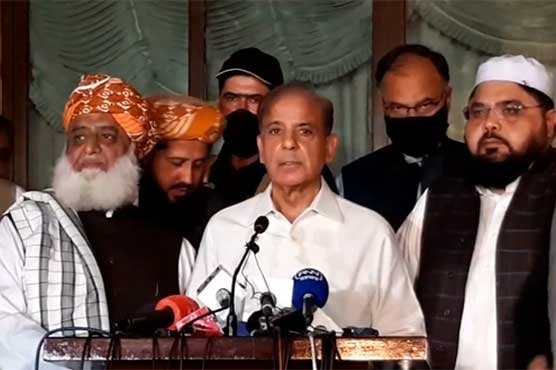 No single party has the right to add or expel a party from PDM: Shehbaz Sharif
ISLAMABAD (Dunya News) - PML-N President Mian Shehbaz Sharif has said that no single party has the authority to expel or include a party in the Pakistan Democratic Movement (PDM) alliance. The party President made it clear that the decision regarding PPP and ANP will be taken at tomorrow's PDM meeting.
Talking to media after meeting PDM head Maulana Fazlur Rehman on Friday, Shahbaz Sharif said that all decisions would be taken after consultation in the PDM meeting.
"I have no personal opinion, there is only the opinion of PML-N. My invitation had nothing to do with PDM. We had called the parliamentary leaders", he said.
Shehbaz said that Pakistan Democratic Movement would hold a meeting in Islamabad to discuss the situation in the country and the upcoming budget, adding that PDM should collectively expose the negligence of the government.
"What steps has the government taken since the vaccine was introduced? Were it not for corruption, the vaccination drive could have been better", he said.
Addressing the media, PDM head Maulana Fazlur Rehman said that unfortunately, the leadership of the country is in the hands of incompetent people. He said the government is destroying national institutions and cautioned that laws should not be imposed by force.
Fazlur Rehman said that these rulers were imposed on the nation after being selected. The time of politics behind closed doors is over. Now, everyone has to think for the future of the country.