Published On 25 May,2021 06:11 pm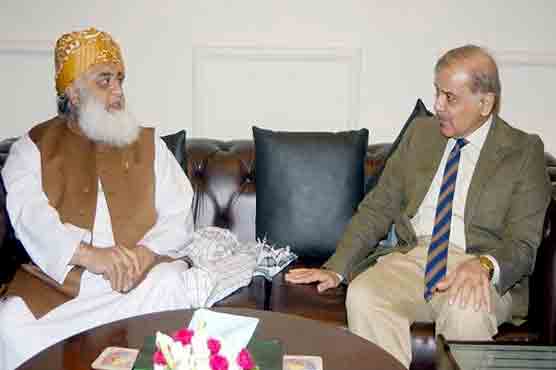 Shehbaz Sharif meets with Fazlur Rehman in hopes of uniting opposition
ISLAMABAD (Dunya News) - Opposition Leader Shehbaz Sharif called on PDM head Maulana Fazlur Rehman on Tuesday and informed him about his proposal to bring PPP and ANP back into the fold of PDM.
According to sources, Jamiat Ulema-e-Islam (JUI-F) chief Maulana Fazlur Rehman told Shehbaz in no uncertain terms that they are welcome back in the PDM, provided the Pakistan People's Party (PPP) admit its mistake and abides by the decisions of PDM.
Maulana Fazlur Rehman clarified that the Pakistan Democratic Movement had given time to both the parties for recourse, yet they had not responded nor replied to the show cause notice. PPP must first admit its mistake and implement PDM's decision on the post of Leader of the Opposition in the Senate, he told.
Talking to media after the meeting, Maulana Fazlur Rehman said that the PDM summit has been convened on May 29, in which PPP and ANP will not be invited. The PDM leadership will sit down and make a decision regarding both parties, he added.
The PDM head assured to mobilize the opposition parties with full public support. We will devise future strategy after consulting with all the parties, he asserted.
The PDM head further criticized the Pakistan Tehreek-e-Insaf (PTI) government and Prime Minister (PM) Imran Khan, saying that the federation has destroyed the economy of the country.